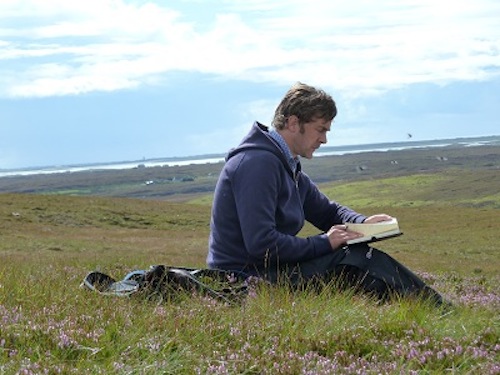 Calum Rodger reviews Alec Finlay's new book, Question your teaspoons: Stonypathian memories (Dunbar: Calder Wood Press, 2012), for Glasgow Review of Books--the book, Rodger notes, borrows its title from [George] Perec. "Finlay's poetry establishes a dialogue with the past, augmenting old voices with phenomenological reflections from the imagistic ('Luster fjord is black / lake blue river / eddies copper-green') to the corporeal ('The damp makes me / rheumy, glandy /eyes gone bleary'), breathing life into both by means of quiet reverence and unadorned formal exactitude." More:
More remarkable still is 'the road north,' a year-long project undertaken between 2010 and 2011 with fellow poet Ken Cockburn. Inspired by Japanese haiku master Bashō's seminal work Narrow Road to the Deep North, both men travelled Scotland for a year, composing poems and artworks occasioned by their surroundings. Blogging the results as they went, their goal was to create a 'word-map' of the country (interested readers can now explore this 'map' in its entirety). In the autumn of 2010 the poets and a few others visited Stonypath, Finlay's childhood home, and better known today as poetry garden Little Sparta. Several of the poems from that blog post appear in print for the first time here, and set the tone for a remarkable collection in which Finlay becomes a portolano-maker of memory, tracing moments of childhood with a delicate and loving precision. For those who are familiar with the garden and the work of his father, Ian Hamilton Finlay, it also offers a fascinating and lyrical insight into the other side of Little Sparta: Stonypath, the homely and familial base from which the 'sacred groves' of the garden were constructed.

In 1966, the year of Alec's birth, his father sent home-made Christmas cards to his friends and correspondents, among them fellow poet Edwin Morgan, in Glasgow. Typical of the elder Finlay, these were not Christmas cards in the conventional sense; less season's greetings as gifts, they were lovingly conceived, meticulously composed, published by the poet's own Wild Hawthorn Press and delivered – via the postie, over road and sea – with a measure of sincerity and candour that no nativity scene could hope to match. They were called 'poem-cards', and that year they featured the following poem:
What is this poem? Is it Borges's 'aleph,' as Perec would have it? Almost: the poem presents an entire world, if not the entire world. Nor is it any ordinary world. The poem came appended with a series of questions, the second of which reads:

"Roam" is a verb we associate with Arcady. Can one roam among the letters of the alphabet? Might it be that the letters are compared to the fields and forests, mosses and springs of an ancient pastoral landscape? If so, why?

Morgan's response to the question was contentious: '[T]he word Arcady does not have for me quite all the delightful associations you are perhaps assuming it will have.' For the Glasgow poet, it connotes 'artificiality, conventions, classicism in the bad sense.' 'The word Arcady,' he concludes, 'chills me, whereas the word Metropolis – even as I type it here I feel it – stirs my blood.' Good for Morgan. But Finlay, despite the expressly modernist mode of his early concrete poetry, was never a metropolitan poet: 'I quite understood that you would not FEEL about the old Arcady in quite the way I do – for some reason, though I don't BELIEVE in it, the idea of a Golden Age, etc. has always been extremely vivid to me…' It was to become more vivid still in the years that followed.

Ian had settled at Stonypath with his wife and collaborator Sue and the young 'Eck' in September of that year. Today, it is the site of Little Sparta: neoclassical poem-state, 'strawberry republic' and, according to a 2004 poll in Scotland on Sunday, Scotland's greatest artwork. Then, it was an Arcadian tabula rasa, as Finlay describes to Morgan: '[t]here are 3 rooms, linked by a long narrow corridor. Very Scottish, and severe. There are also nice farmbuildings and hills all around, with beautifully poor and stony ground, and wild blackface sheep.
Wonderful. Read the full review here. And if you'd like to read the title's source text, go here.