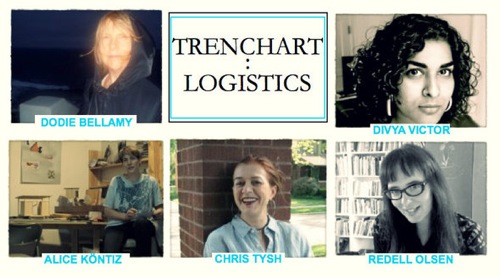 The Les Figues TrenchArt Series has always been one to watch, and the eighth-annual edition is out, featuring new books and essays from Dodie Bellamy, Divya Victor, Redell Olsen, Chris Tysh, an introduction to the series by Vanessa Place (co-editor, with Teresa Carmody), and art by Alice Könitz. More on TrenchArt: Logistics:
This year's 2013 limited-edition hand-bound collection Aesthetics to accompany the work includes essays by Bellamy, Olsen, Tysh, and Victor, an introduction by Vanessa Place, and visual art by Alice Konitz. The Aesthetics essay collection is published in a 250-copy limited edition, available exclusively to Les Figues members.
Lucky members!
As an annual book series published by Les Figues, TrenchArt explores the notion that every writer is in conversation with other writers, and every text is in conversation with other texts. Each year, the series presents new works of literature as part of a larger cultural and aesthetic conversation. Each series features a set of five books that, when placed in proximity, resonate in their conceptual/formal concerns.

Each book in the Logistics series explores the expanse of "cut," or of "cutting," as both adjective and verb, and as organizing principal.

"Partial objects are proudly on parade: mouths, cunts, cuts of tongue, and the skin-surface of films/film-surface of skins," writes Vanessa Place in her introduction, "mind THE GAP." "Logistics, of course, is that branch of the military that addresses the support and deployment of its personnel: support meaning making sure there is proper equipment; deployment making sure there is proper movement, including evacuation and hospitalization, as needed. In business, logistics simply refers to minding the organizational details. The devil, as you know, is in the details."
Here's TOC!
TABLE OF CONTENTS
mind The Gap: a preface | Vanessa Place
To Quill at Film | Redell Olsen
These lips which are not one | Dodie Bellamy
In the Words of a Djinn: an exercise in transcreation | Chris Tysh
A Mouth to Mouth with Your Mouth: a buccal biography | Divya Victor
Symbol on Island | Alice Könitz
Looks like there's a sale on, too...