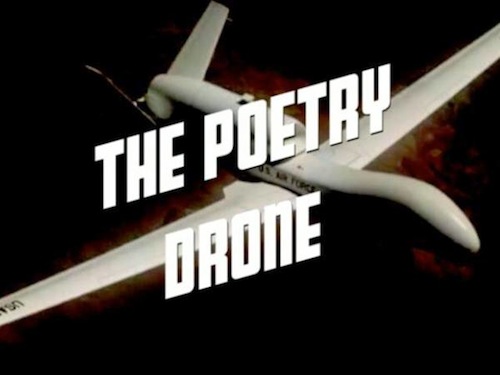 Maybe. If David Shook's Kickstarter campaign achieves liftoff. Jacket Copy reported on this story yesterday here, reminding us:
There are several poetry projects on offer on Kickstarter, the crowd-sourcing site popular with artists and other dreamers. Most involve organizing readings and publishing first books and anthologies. The poet David Shook is much more ambitious than that.

Shook, a Los Angeles poet and translator who grew up in Mexico City, is fluent in English and Spanish: he's translated the other-worldly poetry of the late Roberto Bolaño, among others. Now he wants to launch a batch of antiwar poems in the kind of aircraft often used to wage war: a drone.

The idea behind "The Poetry Drone" is to buy an actual flying drone -- which can be had for as little as $5,000, Shook says -- and fly it over some populated place and have the drone rain poems (instead of bombs) on unsuspecting people below.
Shook may have been inspired to launch the drone project after reporting for Harriet last summer at the London Olympics when the Chilean art collective Casagrande conducted its rain of poems. Or, maybe it was this story? Either way, head over to Shook's Kickstarter page and lend a hand if you want to see the mighty Poetry Drone soar!