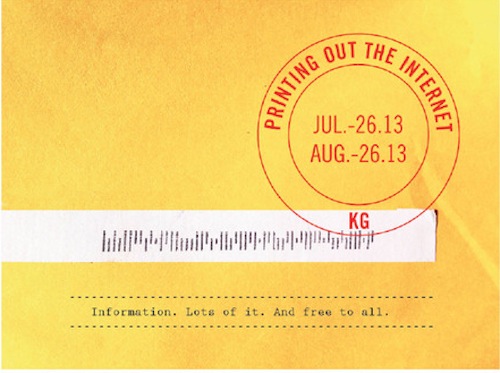 Lemon Hound recently posted an article by Kathryn Mockler that examines if anyone can truly think and write creatively in a society with spoken and unspoken rules indicating the proper times and places for artistic expression:
There is a disconnection between our perception of our rights and freedoms and what we are actually allowed to do and say. Unless we are trying to push these boundaries, it is often something that goes unnoticed.
Moreover, Mockler asks us to examine modern digital life and its limitations through Kenneth Goldmsith's Printing Out The Internet project:
We've reached a point in the life of the internet where corporations and governments are closing in. Our privacy, the security of our information, and the ability to keep a neutral playing field in terms of how content is delivered by the telecommunications industry are all at risk. I can't think of a better time to print out the internet and do a close reading of what we have created and what we stand to lose. Perhaps Printing Out the Internet is really just asking us to stop, reflect, and for a moment, get our heads out of the sand—rather than to literally print it out.

In Printing Out the Internet, like much conceptual writing, the subjective or creative act takes place in what the artists or participants choose to include or leave out from this vast and continuously expanding amount of data. If you decided you were going to print out a section of the internet, what would it be?
Read the full article here. The exhibition of Printing Out the Internet runs from July 26, 2013 to August 26, 2013 at LABOR gallery in Mexico City.