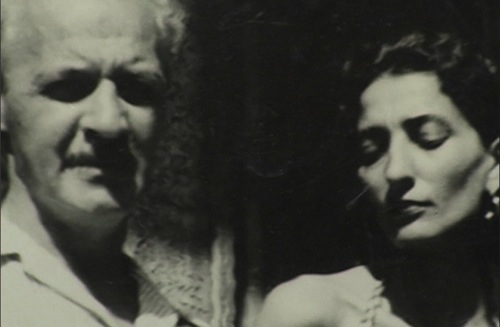 Further excellence for your eyeballs over at The Times-Picayune: the online periodical published this awesome article about the Loujon Press, the subject of an exhibit at the Historic New Orleans Collection museum in New Orleans.
The small central gallery at the Historic New Orleans Collection museum on Chartres Street is a time portal to the beatnik era. The exhibit displayed there, titled "Alternative Imprints: Jon Webb, Gypsy Lou, and the Hand-Sewn World of the Loujon Press," centers on an early-1960s counter-culture publishing house located in the center of the French Quarter. The small, cash-starved press was an inky crossroads that brought together a failed jewel thief, a devoted Vieux Carre street artist, an out of place oil company employee and a famously drunken poet in a modern literary triumph.

The story begins when Edwin J. Blair, a 77-year-old real estate manager and former bank vice-president, met Historic New Orleans Collection curator Mark Cave at a coffee shop. As they chatted, Cave became aware that Blair had a place in the history of Crescent City literature. In time, Blair decided to donate his collection of 50-year-old books, magazines and memorabilia to the museum. In a recent telephone conversation, Blair explained his role in a legendary period of French Quarter history. [...]

"I have to be honest," Blair said, "I was not part of the literary scene. I was a younger guy who was in awe of what was going on, captivated by what was going on."

A friend introduced Blair to Jon Webb, a 58-year-old writer and aspiring publisher. Inexpensive magazines made on mimeograph machines were the rage. But Webb and his wife, an artist named Gypsy Lou, had different ideas. They set out to produce the handsomest publications possible. Their traditional hand press was located in the 600 block of Ursulines Street.[...]

The Webbs founded Loujon Press and began turning out a well-crafted magazine titled "The Outsider." Blair said that Jon and Lou's magazine was attractive to poets and authors for its high quality – despite the fact that it sold for only $1. It also was attractive to writers because the Webbs produced large editions. The typical mimeographed magazines of the time, which were produced in quantities of 200 to 300, didn't have much reach. But Loujon's 3,100-copy editions guaranteed broader exposure. Jon, a natural promoter, also did what he could to further spread the magazine, by sending copies to university libraries near and far in hopes of landing subscriptions. It was a great strategy for gaining a respectable literary reputation.

But it was a dreadful business model.

Loujon's good reputation and bad cash flow collided when the small press on Royal Street attracted the attention of one of the future legends of American literature, the Los Angeles poet Charles Bukowski. Loujon had the opportunity to publish Bukowski's first book "It Catches My Heart in Its Hands." It was sure to be a blockbuster – by small poetry press standards, anyway. [...]

"It was the kind of poetry I'd never heard of," Blair said. "It was raw it was to the point. He was witty; he had a different view of life. He'd been through skid rows. There was something that attracted me to him. I was not reading Keats when I got home from work. I was not an intellectual. But I thought this guy has something to say and he nails it."
Read more of the story of Loujon Press, Edwin J. Blair, Jon Webb and Gypsy Lou at the online presence of The Times-Picayune.