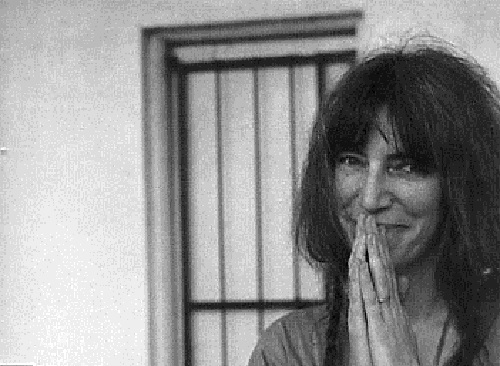 Open Culture just posted two mesmerizing videos of Patti Smith reciting Allen Ginsberg's "Footnote to Howl." In one rendition, Smith is backed by Philip Glass and Tibetan monks, and in the other, Smith is chanting acappella in Florence, Italy:
Today, we bring the two together, in two versions of Smith reading Ginsberg's "Footnote to Howl," the orgiastic coda to his 1955 epic. This makes so much sense I wonder why we haven't featured it before, and yet, here we are.
There's also snapshot of the delicious pop culture moment when Ginsberg and Smith first met in 1969:
It's November 1969 and Ms. Smith is trying to buy a cheese sandwich at the Horn & Hardart Automat on West 23rd Street in Manhattan. When she finds herself a dime short, Ginsberg approaches her and asks if he can help. He offers her the extra 10 cents and also treats her to a cup of coffee. The two are talking about Walt Whitman when Ginsberg suddenly leans forward and asks if she's a girl.

"Is that a problem?" she asks.

He laughs and says: "I'm sorry. I took you for a very pretty boy."

"Well, does this mean I return the sandwich?"

"No, enjoy it. It was my mistake."
Ah the perfect Friday escape. See the videos here. You're welcome.