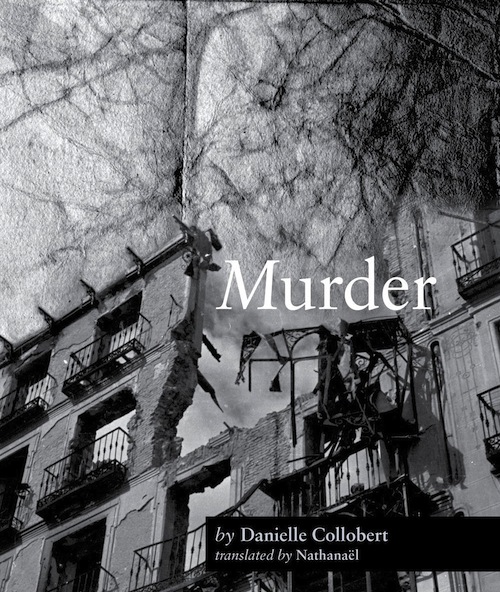 Blake Butler reviewed Danielle Collobert's Murder (Litmus Press) for VICE...some other good'uns there too, incl. Throne of Blood by Cassandra Troyan (Solar Luxuriance Press), Grace Period: Notebooks, 1998-2007 by Aaron Kunin (Letter Machine), and The Skin Team by Jordaan Mason (Magic Helicopter). You might remember Kit Schluter's recent interview with Collobert translator Nathanaël, who says at one point: "The anticipation of articulation, breath's detachedness from 'the world', wields silences in the place of what might otherwise be. Language, here, is arguably an ontological impossibility." Butler's review:
This is the first novel by Danielle Collobert, an experimental French writer who killed herself in a hotel on her 38th birthday. Known perhaps most widely for her poetry, which often combined small, strange, nearly robotic fragments that somehow disturbed physics and sleep in the same breath, Murder is the first work of longer prose to appear in English, and like the rest of her writing, it's as unsettling as clouds of smoke rolling through low dark. Originally published by Gallimard in 1964, Murder was written while Collobert was living as an exile in Italy during the Algerian War. Despite what its blunt title might suggest, Murder is an extremely sleek and mystifying book, bent on the exploration of a destructive feeling looming over all. The narrator has trouble remembering her name, often gets lost in public as if being pushed into a labyrinth in daylight, finds dead bodies in fields, animals go insane. She keeps waiting for something to happen, and yet it is the weird meditative pauses, the blank between the signals, that is the most unnerving. Memories might carry the worst damage of all. "They tortured me," the narrator tells us, "kneaded me, dilapidated me, trampled me. My bones are an erosion. I have no more support. I'm lying down, forever paralyzed. If someone had the idea to stand me up, on my feet, I would spread out like an enormous drop of some liquid, formless. A mass." The same way a murder mystery is most stabbing leading up to its reveal, Murder lingers long inside the blank before death, haunting anyone who will get near enough to share its air with calm-faced corridors of sentences.
Read all of the reviews at VICE.