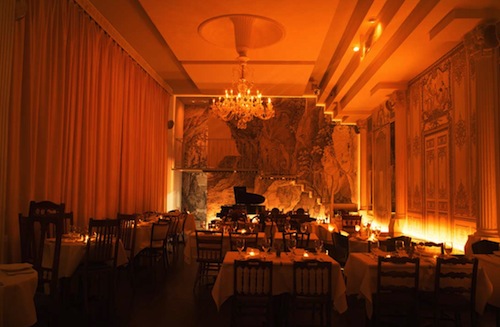 Good news for those bemoaning the loss of the East Village (we know you're out there). The Bowery Poetry Club (now officially Bowery Poetry) is back in business! You might remember last year's confusion surrounding its fate. You also might have walked by the place recently and seen some very intense high-burlesque rehearsal in what looks like a canary Fellini Gracie Mansion dining hall. (It's a shared space!) But this announce just fell in:
We write today to let you know that after one year of renovations and transitions, Bowery Poetry is back up and running.

Bowery Arts + Science--the non-profit organization that programs the space--has a new season of fantastic events lined up. Please visit our brand new website and join us every Sunday and Monday for poetry, performances, endangered languages, music, workshops, salons, drinks, epiphanies, and more.
Events are already starting. Hooray! Image above: renovated interior. Image below, former facade. We'll see you there!