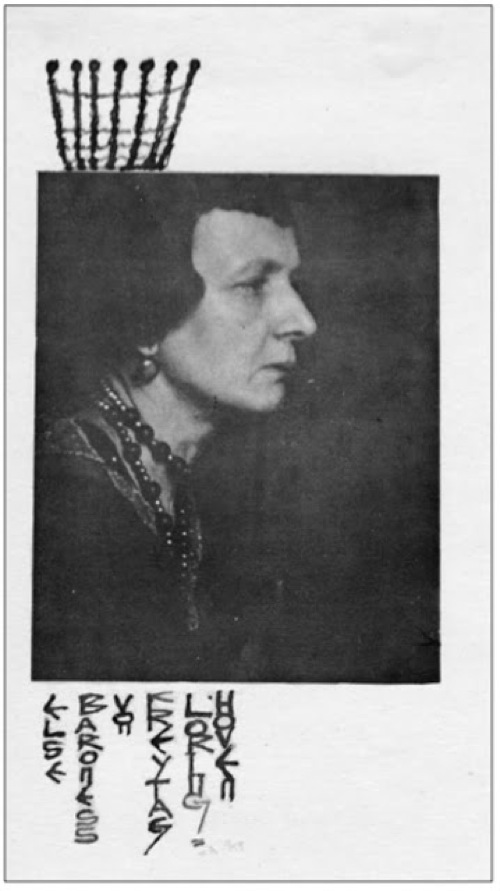 Baroness Elsa von Freytag-Loringhoven as BIODRAMA! As MAMADADA! Produced collectively by 49+ artists and filmmakers! Screenwriting by Cecilia Corrigan! It's a Kickstarter project we can get behind:
The Filmballad of MAMADADA is a collectively-authored biodrama about the early 20th Century artist, Baroness Elsa von Freytag-Loringhoven. A sculptor, poet, painter, and public provocateur, Freytag-Loringhoven made critical interventions in the development of artistic modernism. Yet, like many other women who carried out aesthetic and social movements of that time, her contributions have been largely excluded from history. The Filmballad of MAMADADA is a response to this absence.

Lily Benson and Cassandra Guan initiated this project in 2012, recruiting a group of over 50 filmmakers and artists worldwide to adapt fragments from Freytag-Loringhoven's biography. Forty-nine individual videos were eventually completed and now we are assembling them together into a feature-length film.

We need your help to complete the final stages of the film, and distribute it to the world.

Your funding will go toward:

- Sound Mastering

- Screenwriter's Fee

- Voiceover Talent

- Professional Voiceover Recording

- Project Website

- Festival Entry Fees

- Professional DVD Authoring

- Announcement Cards and Posters

- Soundtrack Distribution

Contributing artists to this project include Leslie Allison, Raoul Anchondo, Mauricio Arango, Doug Ashford, Harold Batista, Gregory Benson, Lily Benson, Caitlin Berrigan, Clara Carter, Lea Cetera, Joanne K. Cheung, Abigail Child, Abigail Collins, Katy Cool, Cecilia Corrigan, Michael DeAngelis, Alex DeCarli, EASTER, Chitra Ganesh, Alex Golden, Cassandra Guan, Jorun Jonasson, Prudence Katze, Simone Krug, Joyce Lainé, William Lehman, Alexandra Lerman, Thomas Love, Kirby Mages, Markues, Mores McWreath, Erin Jane Nelson, Anne Marte Overaa, Michala Paludan, Leah Pires and Ming Lin, Sunita Prasad, Joanna Quigley, Will Rahilly, Amy Reid, Isaac Richards, Doron Sadja, Saki Sato, Frances Scholz, Dash Shaw, Sydney Shen, Beau Sievers, Shelly Silver, Ursula Sommer, Jim Strong, Aaron Vinton, and James N. Kienitz Wilkins.
Watch Benson and Guan's video and donate to the project here. Update: A screening of the film is TONIGHT at Roulette in Brooklyn, 8:00 PM.