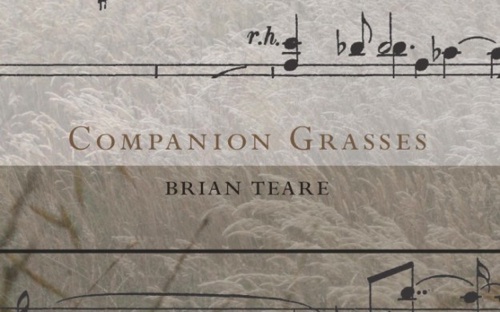 Walter Holland of Lambda Literary Review took on Brian Teare's most recent book, Companion Grasses (Omnidawn Books 2013), writing that the poems "draw from various sources and often contain quotations and texts from various poets and philosophers, naturalists, artists and Transcendentalist works [such as] Robert Duncan, Margaret Fuller, Ralph Waldo Emerson, Charles Ives, Luce Irigaray, Michel de Certeau, Matsuo Bashõ, Emily Dickinson, Juliana Spahr, Henry David Thoreau, Carl Phillips, Reginald Shepherd, and Martin Heidegger." Holland does some good excerpting:
To my mind, the more successful aspects of this collection is Teare's turn toward the elegiac. His poem "Atlas Peak" which alludes to the death of his father and then his beautifully rendered "Star Thistle" which is written for the poet Reginald Shepherd (April 10, 1963–September 10, 2008) are lyric masterpieces in their own right, finding just the right balance in tone.

often I climb up
& find myself thinking
of my father dead now a year,
how near I was to him
in my ambivalence; he was
the thing I held away
& so held it closer
for how intently I examined it
thinking myself safe
from influence. I loved him
before I knew anything
about him—the way I loved
Heidegger, Ives, Duncan,
& the idea of California,
And of Shepherd Teare writes:
the day before Reginald died, we spoke on the phone
but morphine filled his speech
so completely
it was terrible to listen to him, disappearing
even as he said I love you & echoed him, the last thing
I could bear
before I had to say goodbye
filled with the certainty I'd failed to witness the death of a friend I loved.

This poem, "Star Thistle," far surpasses Teare's earlier compositions and is the most fully realized poem achieving a Transcendental quality.

if we die to become nothing but matter so that Being itself might continue
grounded by ground itself,
"such a sweet thing out of such corruptions!",
who wouldn't wish to linger in the material world
that won't spare me or let me hold a living hand to him :
all spring I'll return
to bring grief to the field, . . .