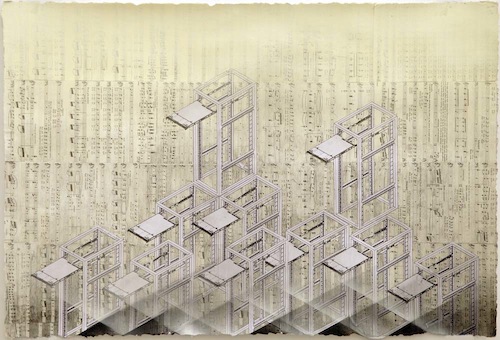 Hear tell is LOADING, from Jonathan Allen and Anselm Berrigan! As we've been told, the collaborative project "[LOADING is] essentially taking that notion--stolen from the message we all see on our phones/computers when they are busy processing data--and extending it as a broader cultural/social metaphor."
Berrigan wrote a new suite of poems for the project, which progressed in various ways (idea exchange and conversation over email, and multiple studio visits) and now exists in multiple formats as well, with an entirely new body of work from Allen--paintings and works on paper--created over the last year and a half.
Art-side: On September 8, all this will be open as a solo exhibition at Lu Magnus gallery on the Lower East Side, NY. The show will comprise paintings, works on paper, and a group of animations inspired by Berrigan's poems, and runs Sept 8-Oct 16.
Text-side: Brooklyn Arts Press has published a book, combining Berrigan's poems and reproductions of Allen's work. A launch party and reading from Berrigan is set for September 21 at Lu Magnus. And LOADING is currently available at Unnameable Books in Brooklyn.
We want it! And check out some images from the exhibition: