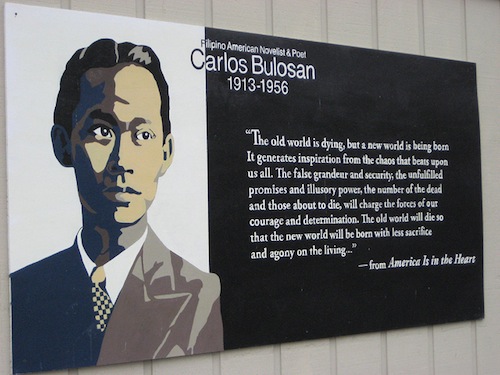 A poem by Filipino-American poet Carlos Bulosan has inspired a traveling photo exhibition. The exhibition "I Want the Wide American Earth" is currently at the Smithsonian National Museum of American History until August 25th, and will then travel to the Japanese American National Museum in Los Angeles on September 14th and run until December 1st.
An excerpt from Bulosan's poem from Inquirer Global Nation reads:
Before the brave, before the proud builders and workers/ I say I want the wide American earth/ For all the free./ I want the wide American earth for my people./ I want my beautiful land./ I want it with my rippling strength and tenderness/ Of love and light and truth/ For all the free.
The article goes on to describe the contents of the exhibition:
The exhibition—the first of its kind undertaken by the Smithsonian—celebrates Asian Pacific American history across a multitude of cultures and explores how Asian Pacific Americans have shaped and been shaped by the course of American history.

Images on 30 panels tell the story of the first Asian immigrants' participation in the gold rush, the transcontinental railroad, on both sides of the American Civil War and the building of the nation's agriculture.
The director of the Smithsonian Asian Pacific American Center, Konrad Ng, said Bulosan's poem "offers aspiration and that vision of America being the home for everybody, specifically for Asian Pacific Americans." You can read poems by Bulosan from the April 1942 issue of Poetry here.