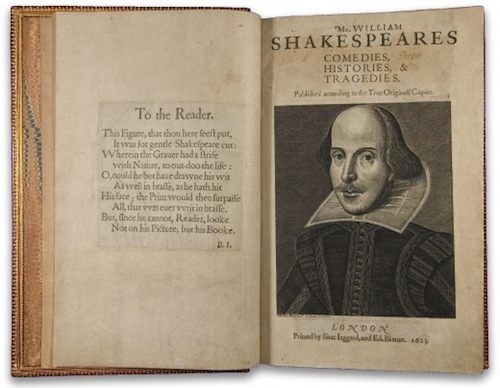 There are no foregone conclusions when it comes to William Shakespeare's work. While some argue that Shakespeare didn't write most, or all, of his attributed plays and scripts, others argue that he was a ghost writer for other Elizabethan-era playwrights.
As a New York Times article points out:
For nearly two centuries, scholars have debated whether some 325 lines in the 1602 quarto edition of Thomas Kyd's play "The Spanish Tragedy" were, in fact, written by Shakespeare.

In a terse four-page paper, to be published in the September issue of the journal Notes and Queries, Douglas Bruster argues that various idiosyncratic features of the Additional Passages — including some awkward lines that have struck some doubters as distinctly sub-Shakespearean — may be explained as print shop misreadings of Shakespeare's penmanship.

"What we've got here isn't bad writing, but bad handwriting," Mr. Bruster said in a telephone interview.
And this new theory may have legs:
"We don't have any absolute proof, but this is as close as you can get," said Eric Rasmussen, a professor at the University of Nevada, Reno, and an editor, with Jonathan Bate, of the Royal Shakespeare Company's edition of the complete Shakespeare.

"I think we can now say with some authority that, yes, this is Shakespeare," Mr. Rasmussen said. "It has his fingerprints all over it."
Enough so that:
Mr. Rasmussen and Mr. Bate are including "The Spanish Tragedy" in the Royal Shakespeare Company's new edition of Shakespeare's collaboratively authored plays, to be published in November.
But others, predictably, aren't as enthusiastic about these findings:
Tiffany Stern, a professor of early modern drama at Oxford University and an advisory editor for the Arden Shakespeare, praised the empirical rigor of Mr. Bruster's paper, but said that some new attributions were driven less by solid evidence than by publishers' desire to offer "more Shakespeare" than their rivals.

"The arguments for 'The Spanish Tragedy' are better than for most" putative Shakespeare collaborations, Ms. Stern said. "But I think we're going a bit Shakespeare-attribution crazy and shoving a lot of stuff in that maybe shouldn't be there."
And, as the article mentions, it's important to remember that:
Elizabethan theater was intensely collaborative, with playwrights often punching up old plays or working with other dramatists to cobble together new ones, in the manner of Hollywood script doctors.
Read the full piece here: