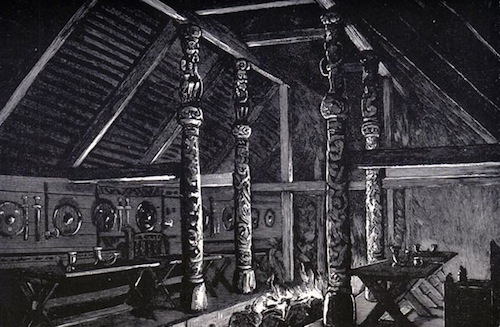 Like most office workers, come Friday Harriet Staff likes to throw back a few ox horns of mead and recite heroic tales in verse. So we were thrilled to see that King Hrothgar's real and true Royal Hall has been discovered in Denmark. Beowulf obsessives may now rejoice! From Lit Reactor:
A team of archealogists in Denmark have unearthed a great dining hall in a field in Lejre that they believe not only belonged to the real-life King Hrothgar, but was the setting for the anonymous Old English poem Beowulf, David Keys of the Independent reports.

The archeologists – led by Tom Christensen, director of the Lejre investigation – have so far managed not only to find, excavate and date the late 5th or early 6th century building most likely to have been Lejre's first royal hall (described in Beowulf as `the greatest hall under heaven'), but have also succeeded in reconstructing what was on the menu at the great feasts held there.
For the hardcore 'Wulfers out there, we offer this Olde English version of the poem. Have a royal weekend!