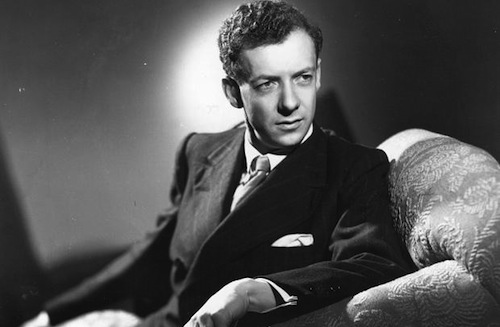 Or did Britten bestow Britain...? Either way, this means that we can find poems in our wallets now, too, and we think that's pretty darn cool. Britain celebrated composer Benjamin Britten's 100th birthday earlier in the week by introducing a 50p coin that features a line of Tennyson that Britten set to music. A post at The Observer says:
Instead of an image of Britten himself, the designer of the new coin, the artist Tom Phillips, has taken a line from Alfred, Lord Tennyson's poem "The Splendour Falls on Castle Walls," which was set to music by Britten in his "Serenade for Tenor, Horn and Strings." "Blow Bugle Blow, set the wild echoes flying" is written around Britten's name. Phillips joked that he wanted to preserve the nation's ability to toss a coin and cry "heads or tails".
The artist goes on to say:
"Who wants to look at a dull picture of an uninteresting old man, even if they are wonderful composers or talents?" said Phillips. "What I like about this design is the very modern fact that you can read the lines on the coin and then go and look them up. If you do, you can go straight away to hear a recording of Peter Pears [Britten's partner in both his personal and professional lives] singing those very words in a scratchy old recording on YouTube. I thought that was a new approach to a coin in a world like today's."
Internet-interactive-poem-money? It really is 2013.
Read the full article here, read Tennyson's full poem here, and if you're available next Wednesday the 11th in Chicago, come see a concert at the Poetry Foundation focusing on Britten's relationships with W.H. Auden and Edith Sitwell, as the opening of the 2013 Collaborative Works Festival sponsored by the Collaborative Arts Institute of Chicago. And no need to bring your 50p coins; the event is free.