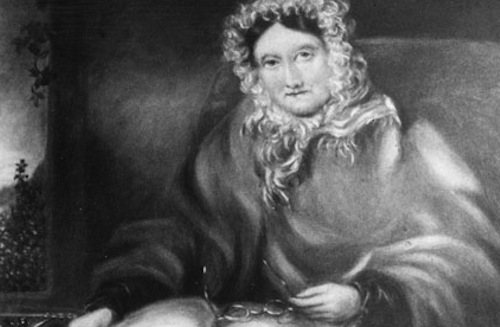 Publishing from beyond the grave, Dorothy Wordsworth is still cranking out the hits, thus reports The Telegraph. A little background on the poem:
The manuscript by William Wordsworth's sister was bought by the Wordsworth Trust in May – and is only published for the first time this morning by Oxford University Press. It does include fragments of previously published poems but the whole is greater than the sum of its parts, I think.

Dorothy Wordsworth suffered from arteriosclerosis and dementia; she wrote the poem from her sickbed in 1836, looking back at a health crisis of 1832-3, when her life was in danger. I find it extremely moving. See what you think.
And now the poem you've been waiting for:
Lines addressed to my kind friend & medical attendant, Thomas Carr

Five years of sickness & of pain
This weary frame has travelled oer
But God is good & once again
I rest upon a tranquil shore

I rest in quietness of mind,
Oh! may I thank my God
With heart that never shall forget
The perilous path I've trod!

They tell me of one fearful night
When thou, my faithful Friend,
Didst part from me in holy trust
That soon my earthly cares must end.

Harmonious Powers with Nature work
On sky, earth, river, lake & sea;
Sunshine & storm, whirlwind & breeze,
All in one duteous task agree.

Once did I see a slip of earth
Self-loosened from the grassy shore
Float with its crest of trees adorn'd
On which the warbling birds their pastime take

Food, shelter, safety there they find;
There berries ripen flowrets bloom;
There insects live their lives, & die
A peopled world it is – in size a tiny room.

Perchance when you are wandering forth
Upon some vacant sunny day
Without an object, hope, or fear,
Thither your eyes may turn – the Lake is passed away.

Buried beneath the glittering Lake
Its place no longer to be found;
But the lost fragments shall remain
To fertilize some other ground.