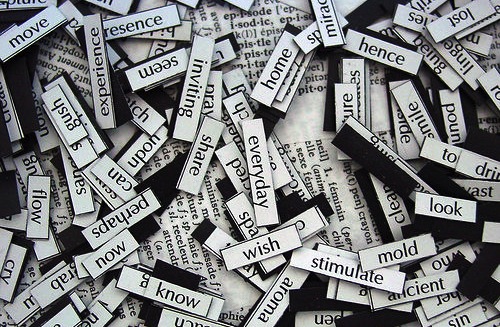 We mean besides that magnetic poetry kit you've been using on the regular. Ava Seave reports on the age of Motionpoems, Rap Genius, and APR at Forbes:
Digital tools and platforms are driving young, hip readers and writers of poetry in ever increasing numbers to practice and appreciate the ancient art. Here's a round up of four to watch.

Motionpoems

Motionpoems features short animated films; and for each one, a newly published contemporary poem is being used as the script, and the results are truly astonishing, powerful and hilarious.

The nonprofit releases one animated poem each month. Motionpoem's Executive and Artistic Director, Todd Boss says the site is "going gangbusters." The organization has been "concentrating on creating the model and delivering on extreme quality." They've produced 40 so far.

Publishers partner with Motionpoems by "supplying us with a constant stream of poems that will be forthcoming titles of theirs," explains Boss. "We read what the publishers give us, we select down from there and deliver maybe three to five poems handpicked to deliver to a filmmaker we know is really interested in making a project for us." The filmmaker chooses from this selection, or can ask for additional choices, until a match is made.

Product distribution is primarily through the web site and social media marketing. In addition, the publishers and artists promote the work. Motionspoems shows the work in a dedicated live event each season at the Walker Arts Center in Minneapolis, as well as entering it in various film festivals.

Financially, they have been completely dependent on foundation grants, with some corporate and individual donors, although Boss says they are ready to see if a match can be made with a corporate sponsor.

Poetry Genius

Rap Genius, a site that has reached 24.3 million uniques a month, according to the company's report of Quantcast figures, has a community that carefully considers song lyrics by posting, commenting and annotating the text — and each other's annotations. Just about 100 days ago, Rap Genius launched offshoots, including the literary Poetry Genius. And according to my recent interview with Poetry Genius Editor-in-Chief, Austin Allen, they have reached over 200,000 uniques a month.
Read more and take a break from the white space that is your refrigerator at Forbes.