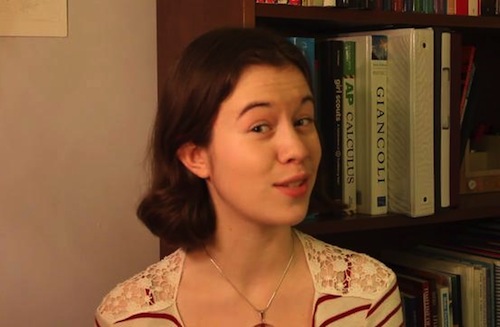 Hold onto your hats, cats! This just in from the Washington Post:
Science, technology, engineering and math are not everything, even in this STEM-obsessed world. Luisa Banchoff is proof of that.

She was in eighth grade when her English teacher in Arlington, Va., gave her class an assignment to write poetry. Other kids felt that writing a poem was as tough as having a tooth pulled, but not Luisa. To her, it seemed like the most natural thing in the world. She never stopped writing, and that's how she became part of the inaugural class of fellows in the National Student Poets Program, the nation's highest honor for youth poets.

Luisa, 18, who attended Washington & Lee High School in Arlington and is now at Princeton University, was one of five students named to the first class of National Student Poets in 2012, each representing a region of the country. They spent the past year serving as poetry ambassadors through workshops, readings and other projects at schools, libraries and museums. This week, the second class of National Student Poets was named at the National Book Festival in Washington, D.C.

"A good poem is something you can relate to, have an emotional connection with," she said. "When I like a poem, I feel like I am communicating with a poet and a poet is communicating with me. It's more than just, 'Find all the figurative language and write something about what the poem means.' It's more than that. It really resonates with me."

The National Student Poets program was conceived after a poetry workshop was held at the White House with first lady Michelle Obama. The workshop was so successful that the program was launched, a joint initiative by the President's Committee on the Arts and the Humanities, the Institute of Museum and Library Services, and the Alliance for Young Artists & Writers, in coordination with the Library of Congress and the U.S. Department of Education.
Three cheers, Luisa and the rest of the winning crew selected by the National Student Poets Program!