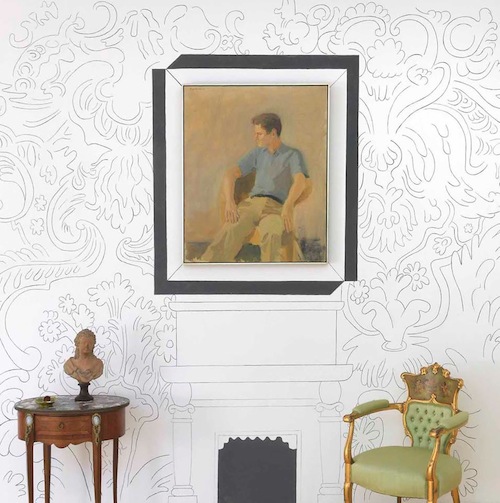 This Saturday, 4 PM at Loretta Howard Gallery (NYC) Maureen Howard, Marcella Durand, and Todd Colby celebrate the gallery's newest exhibit "John Ashbery Collects: Poet Among Things" with most-welcome poetic and prosaic festivities. "John Ashbery Collects" opened on September 12th at Loretta Howard Gallery: co-curated by poets Emily Skillings and Adam Fitzgerald, the exhibition is an immersive, multi-media glance at what John Ashbery collects and how the collection informs his poetry. (Sound familiar? We recently posted about the exhibition's grand opening, here.) This literary reading is the first of four events to take place at the gallery in conjunction with the exhibition. From Loretta Howard Gallery--
Loretta Howard Gallery is pleased to present John Ashbery Collects, an immersive multi-media gallery experience showcasing a selection of things that inform Ashbery's sensibility as well as his work as a poet, visual artist, collaborator, art critic and collector. Co-curated by poets Adam Fitzgerald and Emily Skillings, John Ashbery Collects explores the poet's lifelong interest in collecting through the medium of his late-19th century house in Hudson, NY, a carefully composed collage-environment constructed over thirty-five years with an eclectic array of fine art by European and American masters, furniture, pottery, textiles, bric-a-brac, toys, and other objects, augmented by the content and associations that these objects hold for him—the images and artworks he arranges on his walls, the books he puts on his shelves, the music he plays, the cinema he watches—all organized in an architecturally-distinguished setting.

The exhibit features works by artists Ashbery has counted among his intimate friends and those he has paid homage to as critic, many of whom have subtly influenced his poetry. Scholars and critics increasingly acknowledge the inspirational role that environments play in Ashbery's creative process, looking to the Hudson house, which some consider to be his most ambitious and fully-realized artwork, for insight into how he uniquely populates his spaces, poetry and collages with things intended to trigger and reflect his imagination. Viewers are invited to discover the breadth of Ashbery's personal collections, spanning some eight decades, in this unusual exhibition.
For more information (and to take a peek at some sweet installation views) we highly recommend visiting the official website of Loretta Howard Gallery.