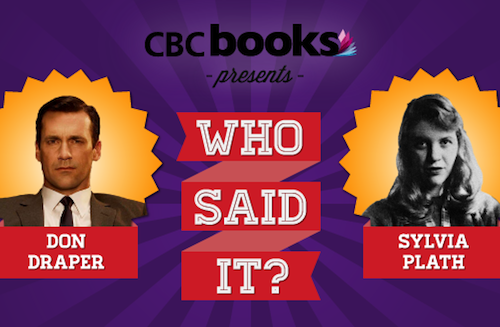 Have five seconds? We just tried our scrollpad on this quiz CBC Books: "Who Said It: Don Draper or Sylvia Plath?" Let's just say it's tougher than it looks: a FACEOFF for the Creative Director of Mad Men and our behemoth, learned Plath. Or, as they write:
She's an American poet. He's a creative director of the American advertising firm Sterling Cooper. One was a real person, the other is fictional. Plath's work blazed a trail for female poets and helped establish a strong tradition in confessional poetry. Draper's visions for advertising tapped into the heads and hearts of people, showing that commercials could elicit the same emotions as a piece of art. At the heart of it, both Sylvia Plath and Don Draper are two artists with a vision, and deep beneath their creativity lies hidden pain.

Take the quiz to see if you can decipher one creative genius from the other!