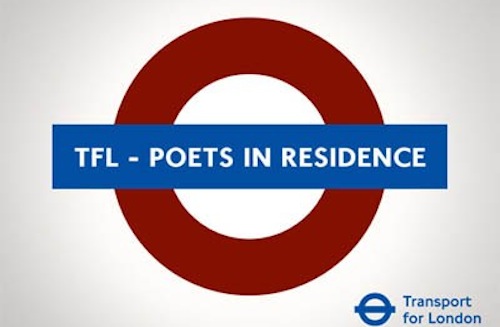 Via the Guardian--
Regular travellers on London's tube network are familiar with Poems on the Underground, the longstanding arts project that showcases works from poets as diverse as William Blake, Carol Ann Duffy and Nii Ayikwei Parkes to inspire passengers on their everyday journeys. But in a twist to the tale, London's poets are being asked to return the favour and help promote a Transport for London campaign about courteous behaviour – and some were initially unhappy with the terms on offer.

A call put out by TfL and advertising agency M&C Saatchi sought poets for "pop-up poet" and "poet in residence" slots, to compose and recite works at nine London tube stations focusing on certain "behaviours", such as "impatience", "awareness" and "courtesy", during the first week of October. The organisers asked for buyout in perpetuity for rights to any work created during the week-long promotion, and a small fee, "TBC", which turned out to be £150 for the week – well below the daily rate recommended by the Society of Authors.

TfL and Saatchi's advert said: "For the five days we need you in situ to write topical, short, charming or cheeky poems to gently remind commuters to have a little respect for their fellow travellers and make the network a nicer place to travel – featuring the behaviours.

"You'll be given a few prime spots around your nominated station to create your poems – eg station whiteboards, tannoy announcements, the station busking spots and some poster sites. In addition your poems (and your name) will be used across TfL and our partner social media."

After poets voiced concern about the attempt to grab copyright and the small sum on the table, organisers made a speedy U-turn, offering a heartier cash payment of £500, and confirming that copyright in any works composed during the week would remain with the poets. Verse will be displayed on temporary media at stations for the duration of the campaign, and discussions for payment will be conducted on a case-by-case basis if TfL wishes to use poems, or videos of recitals, in further promotions.

In a statement, M&C Saatchi said: "We consulted an external adviser on all matters concerning poets, poetry, remuneration and copyright for this performance element, which is supporting material for a poster and film campaign of which the poetry has been written by M&C Saatchi. Following further consultation with the community and the Society of Authors we have ensured all negotiations have been carried out with individual poets on a one-to-one basis. The appropriate levels of remuneration and intellectual property rights will be reserved and all artists will rightfully retain copyright of their IP, and the fee meets Poetry Society standards."

A spokesman for TfL said that there was "a natural link between London Underground and the London poetry scene", adding that "the campaign posters are written in verse". It has dubbed the promotion, which runs from Monday 30 September to Friday 4 October, "National Poetry Week". This coincides with the established National Poetry Day on Thursday 3 October, which this year has the theme "water, water, everywhere". [...]

TfL said its campaign to promote good behaviour was an opportunity for poets "to showcase their work and to bring their poetry to London Underground customers". The scheme will be running at Angel, Canary Wharf, Embankment, Hammersmith, Knightsbridge, Leicester Square, Liverpool Street, London Bridge, and Waterloo stations.
Read more at the Guardian.