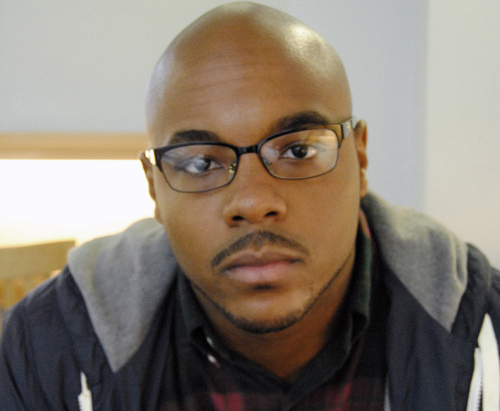 [Note: This post marks the beginning of a new series on the Editors' Blog. Each month, a contributor to Poetry's current issue will write a guest post here. We're very glad to have Nate Marshall inaugurate this series. His poem "praise song" appears in the October issue.]
I remember taking vocabulary tests in elementary school. My grandmother was a retired high school librarian. She was also an avid reader who pushed me to be the same. Because of that I was an excellent reader and speller with an uncommon vocabulary for my age. I loved taking vocabulary tests because I knew they were a surefire way to pad my grade with an A. I basically always got every question right except for one part.
Each of these 30 question, multiple-choice affairs began with 4 questions that asked us to identify the stressed syllable in the word. This absolutely stumped me. My grandmother, the librarian, was from Montgomery, Alabama and I often heard her pronounce words in ways unlike many of my white friends at school. Her friend, the Arab dude who ran Fame Food & Liquor a few streets from our house, had his own wild pronunciation. Even my mother, her daughter, would shift her vocal patterning on words and phrases depending on if she was talking to us kids after a long day at work or calling the police to report men drinking and shooting dice in the park across the street. The idea that words had specific patterns to be followed did not make sense to me, though I did not know how to articulate why. I also remember listening to hip-hop a lot as a kid. Those records thrilled my senses. I was captivated by the way wordsmiths like Twista, Black Thought, and Biggie would shift the way we thought a word might be said to make an inventive rhythmic pattern.
I remember having a vague notion that this syllabic stress had something to do with poetry. I probably got this idea from reading Shakespeare or some other very old white man in school and being told that this was the case. Poetry was something not mine. It operated with rules that I couldn't access. That was my prevailing sense for most of my early elementary years (save for a few small Langston Hughes and Gwendolyn Brooks lyrics, though I don't know if I knew these were poems, they might have only been schoolyard chants in my head). What shifted this was the sixth grade. Our English teacher that year allowed us to write raps using our vocabulary words for extra credit. For me, that made something click. I would gather up my homeboys and goad them to work furiously alongside me writing small rhymes containing words like scruples and indiscriminate. Around the same time the show Def Poetry premiered. The rapper Mos Def hosted the show. Many of the people on the show spoke in rhythms similar to my mother, grandmother, liquor store owners, and the people in my neighborhood. Taking in all these things allowed me to see a poetic language that was flexible and fun. It gave me access.
After that point I started writing poems and raps constantly, even when there was no extra credit. I began to seek out hip-hop music like Mos Def and his label mates at the independent Rawkus Records and through that search I began to discover even more music and poetry. I found Gil Scott-Heron and The Last Poets. I found Nikki Giovanni and Tupac. I found Common and Haki Madhubuti. I found my Carl Sandburg and Gwendolyn Brooks. Eventually I found my way back to Shakespeare with new eyes. I saw his words not as the work of a stuffy dead man in tights but rather the musings and music of a man in his time unafraid to use the vulgarities, vagaries, and language play of his era to create popular art.
I've grown to have a great fondness for formal poetry. I still don't understand metrical prosody very well but I understand its importance in the tradition. I was asked the question recently whether or not meter was still a useful tool in poetry. I think meter, like anything else, is at play when building the small geniuses of a poem. I think form and verse are important ways to give artistic challenges that can lead to great results. With that said, I believe that every poet and generation of poets has to define and redefine their relationship to form and the role it will play. Whether it's the fourteen-line sonnet, the sixteen-line rap verse, the six-line stanza of a sestina, or the tercet of a blues poem each poet has to figure how to find and employ the weapons that offer each poem its truest voice.
Nate Marshall is from the South Side of Chicago. His first book, Wild Hundreds (University of Pittsburgh Press, 2015), won the Agnes Lynch Starrett Prize. He is a coeditor of The BreakBeat Poets: New American Poetry in the Age of Hip-Hop (2015). His rap album, Grown, is due out in...