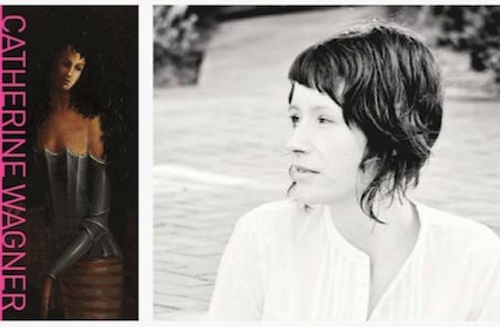 Cathy Wagner's new book, Nervous Device (City Lights Spotlight 2012), is given its due at Jacket2 by Virginia Konchan. The book has a polyvocal narrator, as Konchan notes, but it's also an internally divided "I":
..."I built this tone / ironically; that is, / it goes against itself." This alienation of any "natural" unities (vocal, identitarian) under capitalism makes poetry an act of ventriloquism. From "Unclang": "reaching two prosthetic limbs out as far as you / can on either side to grab something in front of you. You can't grab / it but maybe you'll take flight" (10–11).

The split between the "glamorous avatar" of exteriorized body-consciousness and the speaker's own body is, in "Innocent Money," posited as necessary equipage for a neoliberal subject (doubly so for a woman under capitalism, already alienated by exclusion from a linguistic or market category other than "not-male" or as an object of consumption and exchange). With hilarity, the poet appoints herself divider of her own personhood, and as distinct from a male subject, in the direct trade interaction between capitalist-entrepreneurs (and, as Nervous Device argues, exploitative wage labor between those market subjects without a product to sell other than human capital, unskilled labor, or, in countries controlled by the IMF, natural resources). "I must maintain / our separation, boys / so that you will continue to invest" — albeit founded on the commodified body's dead, yet penetrable, form: "She is / I am handling / my carcass / with strings"; "I enter my carcass / to embrace you" (12–13).

In this poetic performance, Wagner shows the body to be not only metonymic of capital (a physical object possessed by self or other), but of the miasmas of self, character, voice, and "presence": of, in short, art. If, however, owned (bought back, or repossessed), this very capital becomes the foundation of (literal) self- and body-possession, and by extension, time (the subject becomes not just a representative "I" but subject experiencing interiority through self-reflexivity: a sense of "herself").

The creation myth of a fungible, late-capitalist subject (a bonafide "nervous device"), this collection's central question is how poetic statement can remain nondiscursive "play" ("How can I knock be clear about my intentions") after the incident of "Meaning / brutally dragged in." Intentionality, here, is represented by the speaker's choice "never to be obscure": "I understand why I was: explaining / is a bore, and flattens lang, so, it takes experience to write a real poem / that is well-lit" (10, 66).

The transformation from commodified language and alienated subjectivities, produced by the corporate state or culture industry, to human capital, restored to the agency of the poet-producer, frees the speaker to "mean" nonsense (or resist fetishizing a totalized meaning): "I emerged from postlanguage // What'd I say? // Green clamp pulleywamp" (27). It also marks a shift from exclusively aesthetic to ethical claims: "refrain from all damn harm" (39).
Read the full review at Jacket2. And you can find some new Wagner poems in Hi Zero 21.