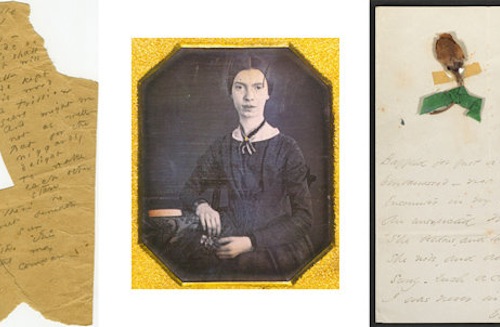 As we mentioned in January of this year, 2013, "Amherst College [has] digitized and published all their manuscript holdings of poems, letters, and whatnot by the Belle of Amherst herself Emily Dickinson." Then we told you bout New Directions publishing The Gorgeous Nothings, a book of envelope facsimiles of Dickinson's work, the first of its kind--with all 52 of the envelope writings, life-size and in full color (to be released next Tuesday, Oct. 29). Yesterday, The New York Times announced The Emily Dickinson Archive, an open-access website for the manuscripts of Emily Dickinson: "The online Emily Dickinson Archive, to be inaugurated on Wednesday, promises to [bring] together on a single open-access Web site thousands of manuscripts held by Harvard University, Amherst College, the Boston Public Library and five other institutions." You're now able to browse for images, find poems using "lexicon words" or definitions from ED's dictionary, or "zoom in on one of Dickinson's famous dashes until it almost fills the screen." The NYT reports on the backstory:
But the project, organized and financed by Harvard, has also generated enough behind-the-scenes intrigue to fill an imaginary Journal of Emily Dickinson Studies Studies, as one board member jokingly put it.

Since planning began two years ago, there has been a revival of decades-old tensions between Harvard and Amherst, which hold the two largest Dickinson collections. And sometimes-bitter debate has flared on the advisory board, with some members saying that Harvard's choice of which materials to include provides too narrow an answer to a basic question: Just what counts as an Emily Dickinson "poem," anyway?

"The scholarship with any major figure produces factions and divisions," said Christopher Benfey, a Dickinson scholar at Mount Holyoke College, who is not involved with the project. "But with Dickinson, the truly bizarre thing is the quarrel has been handed to generation after generation after generation."

The trouble began when Dickinson died, in 1886, leaving behind just 10 published poems and a vast and enigmatic handwritten paper trail, ranging from finished-seeming poems assembled into hand-sewn books to fragments inscribed on advertising fliers, envelope flaps, brown household paper, even a chocolate wrapper.

After finding a cache of writings in a locked chest, Dickinson's sister Lavinia gave them first to Susan Dickinson, the wife of their brother, Austin, to organize and publish. When Susan worked too slowly, the papers went to Austin's mistress, Mabel Loomis Todd, who helped edit the first published edition of Emily Dickinson's poems. Todd subsequently claimed ownership to some manuscripts, furthering a long-running legal dispute called "the war between the houses."

Material from Austin's descendants went to Harvard in 1950, while Todd's material went to Amherst in 1956. Since then, there have been tensions over copyright and boasting over whose collection is bigger and better.

"They have the furniture, we have the daguerreotype; they have the herbarium, we have the hair," said Michael Kelly, the head of archives and special collections at the Frost Library at Amherst and a member of the online archive's advisory board.

But last week casual trash-talk turned to sharper jostling, when Amherst had one of its lawyers call Harvard to demand that it provide Amherst with digital copies of its Dickinson holdings as specified in a July agreement between the institutions.

"No one ever threatened a lawsuit," Mr. Kelly said of the exchange, which was reported on Sunday by The Boston Globe. "We were just reminding them that we had an agreement. They have followed it to the letter."

Harvard insists that it has not been trying to outmuscle anyone. "I'm disappointed to be pulled back to a situation from the past, where ownership is the most important thing," said Leslie M. Morris, the curator of modern books and manuscripts at the Houghton Library at Harvard and the project's general editor.

Last year Amherst posted all its Dickinson manuscripts on an open-access Web site. Harvard, however, has until now allowed little of its Dickinson material to be publicly available online. But the aim of the joint digital archive, Ms. Morris said, "was to downplay the issue of ownership and focus on Emily Dickinson and her manuscripts."

Dickinson scholars have long hotly argued over questions like her sexuality and her reasons for not publishing....
We're excited, naturally, despite the decades-old tension. Read the full article here.