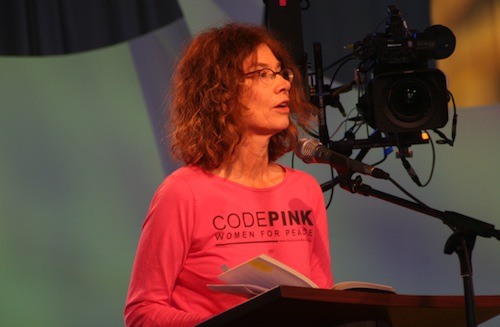 Thank goodness she isn't just our hero: the team at The Rumpus says so, too! Peek yonder, at this recently posted transcript from The Rumpus Book Club's Q+A with Brenda Hillman.
Sarah: I was wondering if you could talk a bit about how you think about movement in a poem, how a poem gets from beginning to end, if you have techniques in order to create the energized movement you accomplish as you travel down the page.

Brenda: Wow—you started with maybe the hardest question ever! For starters, I have to say that I value the sound in a poem very highly and often wait till I hear lines. So it's not so much about getting the movement down the page as about hearing "next-ness." By nextness, I mean the mystery that the previous line called up. If I get sure of what I'm doing, I know I'm doing something wrong.

Camille D: "If I get sure of what I'm doing, I know I'm doing something wrong." A quotable line in the first interchange! Well done, Brenda.

Brenda: Don't you find that many writers want to move toward clarity? I want to move toward woven truth. Clarity or its opposite, I think at times.

Camille D: One of the things I appreciate most about your work is the way you force us to encounter surprise. It seems your process demands that of you, and so in turn the poems demand that of us.
Read the rest at The Rumpus.