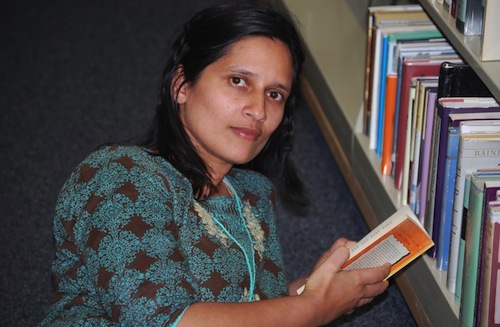 Bhanu Kapil will lead a free, community workshop at Anthology Book Co. (Loveland, Colorado) on Saturday, October 12th. The only requirement: participants must buy a snack and a book from the bookstore.
Bhanu Kapil has taught writing workshops and performed her work nationally and internationally, in venues such as the San Francisco Museum of Modern Art, Pratt Institute in New York, Capilanou University in Vancouver, Ghost Ranch, New Mexico [AROHO Foundation], and Queen Mary's College in London (U.K). She has a particular interest in bringing some of the magic and joy of these writing adventures and practices back to Loveland, where she lives and writes. For this rare local workshop, she will lead a writing workshop designed to generate a new work through a series of prompts that integrate bibliomancy [a form of book divination] and notebook practice. She is excited to engage the space of Anthology/3 Coffee -- with its books and writing/coffee-drinking atmosphere -- as it is the space where she herself has written four books in the last ten years.

Workshop participants are not required to pay a fee. The only requirements are to support the venue by purchasing something from the cafe [delicious drinks and food/snacks are available] AND something from the bookstore!!!! Bring your notebook and writing implements -- and prepare yourself to write into and through the space of the imagination.

Bhanu Kapil teaches at Naropa University and Goddard College. She is the author of five full length collections: The Vertical Interrogation of Strangers (Kelsey Street Press, 2001), Incubation: a space for monsters (Leon Works, 2006), humanimal: a project for future children (Kelsey Street Press, 2009), Schizophrene (Nightboat Books, 2011), and BAN (forthcoming from Nightboat Books in 2014). Two of her books were Poetry Bestsellers of the Decade, a list that was recently published by Small Press Distribution.

Born in England to Indian parents, Bhanu has lived in downtown Loveland for ten years.
More info at the workshop's official Facebook page.