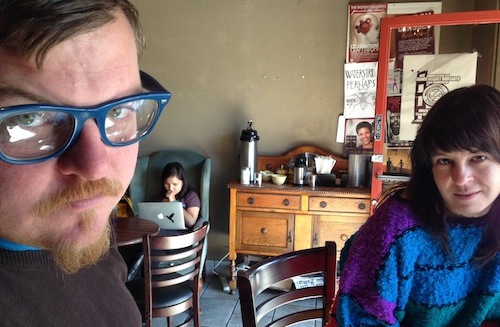 From the Brown Couch, a quant coffeeshop in downtown Oakland, to the interwebs: Krupskaya Press is pleased to announce to the world that it has two new editors as of this year. They are--
*DRUMROLL PLEASE!*
Stephanie Young and Brandon Brown!
For the past eight years, Kevin Killian and Jocelyn Saidenberg have selected and edited Krupskaya books. From 1998 to 2005, Jocelyn Saidenberg edited Krupskaya books alongside a range of editors including Judith Goldman, Dan Farrell, Norma Cole, Hung Q. Tu and Rodrigo Toscano. This year, Jocelyn Saidenberg will continue to act as the publisher of Krupskaya, but she will step away from the press's editorial activities. Kevin Killian will join Stephanie Young and Brandon Brown as a senior editor.
In addition to new editors, Krupskaya has even more updates. For starters, the Krupskaya papers are now archived in the special collections at SUNY Buffalo. Instead of reading manuscript submissions continuously, Krupskaya will host special open reading periods. The next open reading period begins *now* until May 1st. Manuscripts no longer have to go through the US mail, but instead can be sent as Word Documents to the editors at [email protected] Krupskaya will maintain its policy of charging no reading fee for manuscript submissions.
Krupskaya's books are such treasures: we're glad to see the press continue its legacy. High-fives, Krupskaya!
For more information about Krupskaya, visit its website, that's at: krupskayabooks.com