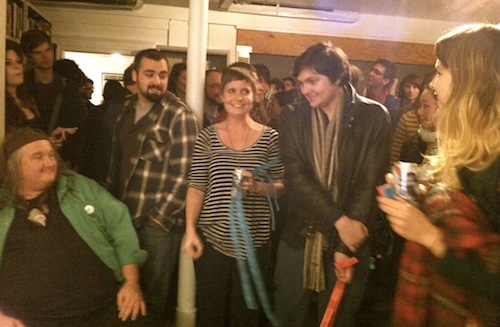 The much-beloved Flying Object of Hadley, MA, is hosting its 3-YEAR ANNIVERSARY BENEFIT AND EPIC RAFFLE ! ! ! This newness is in addition to the facts that they've just hired the marvelous Karl Saffran, formerly of Woodland Pattern, as their new Managing Director; have a growing advisory board of almost 100; and--as we've mentioned previous--are "providing qualified individuals time, space, and resources to carry out an individualized, interactive project that engages with Flying Object's community and space" (apply by Nov. 14 for ResidencyX). And now, please check out the events of Flying Object's third anniversary, coming up on October 18:
October 18th, 7pm
Epic Raffle
Readings from Sampson Starkweather & Rachel B. Glaser
Performance by Ben Hersey
Special musical guest Potty Mouth
+ surprises, obviously.

This year we continue our tradition of hosting an epic raffle and anniversary fundraiser to celebrate the beginning of our new year. Maybe you remember that October 1st is the first day of the year? Well, we want to have more first days and we need your help to continue our work here of supporting artists and writers through programs like our Initiative for Young Writers, Factory Hollow Press, ResidencyX, workshops in poetry and creative writing, a one-of-a-kind public archive of independently published poetry, though regular features on our website, and of course as host to dozens of writers, presses, artists through our public events and exhibitions. Nearly every one of these programs is free and we'll need your support to keep them that way. Check out our subscription, giving, and membership options (subscribers and members receive free entry and 6 complimentary raffle tickets) and of course. . . .

Buy a ticket to the anniversary! You'll have a chance to win prizes donated from a whole lot of our very favorite publishers, organizations, and people … such as … Arrow as Aarow, Alice James Books, Badlands Unlimited, Belladonna, Birds LLC, Black Ocean, BOA Editions, Burning Deck, Canarium, Chemex, Coffee House Press, Content, Counterpath, The Cultural Society, Cuneiform, Edition Muta, Ellipsis Press, Europa Editions, Futurepoem, Green Lantern, Grove/Atlantic, Letter Machine, Lost Roads, Magic Helicopter, Marshall Teller Records, McSweeney's, Mitzvah Press, New Directions, Nightboat Books, O'Clock, Octopus Books, Old Flame Records, Omnidawn, Perfect Lovers Press, Perugia Press, Propolis Press, Publishing Genius, Quale Press, Rescue Press, Sidebrow Books, Solid Objects, Siglio, The Song Cave, SpringGun, Subito, Talisman House, Tinfish, Tupelo, Wakefield, Wave Books, Wesleyan, Woodland Pattern, Wonder , YesYes Books

+

Whether you're local and can attend in real life, or far away and only as an angel spirit presence, you can buy a ticket.
Get yours here how now, or just donate.
Image at top: CAConrad with rafflers of yesteryear.