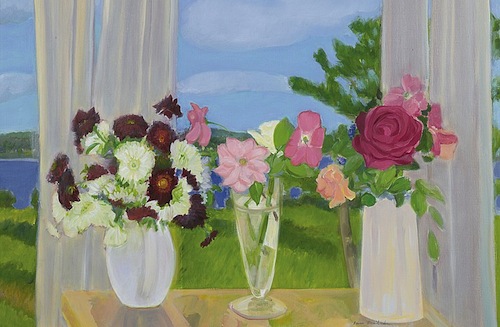 Patrick James Dunagan reviews Jenni Quilter's Jane Freilicher: Painter Among Poets at BookSlut-- leading us to exclaim: buy this book! It sounds great!
"Dear Necessary Angel -- Why don't you write to a Noble Rider who longs for the sound of words, your words." This is the opening line of a postcard message Jane Freilicher sent poet Frank O'Hara in 1956. Her witty tongue-in-cheek reference to Wallace Stevens's at-the-time recently published book of lectures The Necessary Angel and its opening piece "The Noble Rider and the Sound of Words" is but one example of the sort of fun, light romping repartee celebrated in Jane Freilicher: Painter Among Poets. Poems, letters, and photographs of the painter and the poets John Ashbery, Kenneth Koch, Frank O'Hara, and James Schuyler are interspersed with full-color images of Freilicher's art work in a generous layout. Not too surprisingly, gossipy personal affairs get frequent mention alongside literary and artistic matters. An endearingly lighthearted yet serious sense of artistic camaraderie runs rampant throughout.

In the accompanying text, scholar Jenni Quilter notes that Freilicher "inspired the gift of attention -- uncritical, adoring attention" a statement the included documents repeatedly attest the validity of. Though the abundance of material Freilicher directed back to the poets shows the adoration to be a two-way street. Freilicher painted portraits of the poets, designed book covers for them, and corresponded with just as much inventively verbose wit and charm. In Freilicher's own words, "My poet friends didn't influence me directly with their work... there's a sympathetic vibration, a natural syntax -- a lack of pomposity or heavy symbolism -- and something to do with intimism, an intimate kind of expression." Beginning early on in her life as an artist, Freilicher's friendships with the poets proved integral to her ongoing development.
Get ye to a bookstore, henceforth!