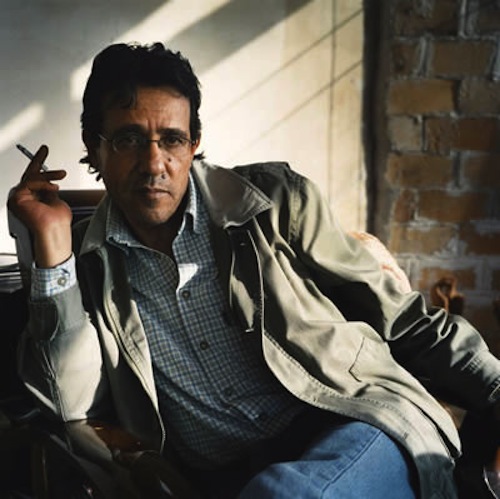 The Los Angeles Review of Books is rich in poetry this week. We pointed you to this roundtable discussion earlier, now make your way over to check out a conversation with Palestinian poet Ghassan Zaqtan and Ben Ehrenreich. Part of the conversation focuses on problems Zaqtan has had obtaining visas to the U.S. and Canada, most recently to received Canada's Griffin Poetry Prize for his collection Like a Straw Bird It Follows Me (translated by Fady Joudah). Ehrenreich writes in his introduction:
In June, Zaqtan and his translator, Fady Joudah, were awarded Canada's Griffin Poetry Prize for Joudah's translation of the collection Like a Straw Bird It Follows Me. The Canadian embassy in Cairo initially denied Zaqtan's request for a visa to attend the award ceremony in Toronto. The year before, Zaqtan was admitted to the US only after PEN International and the ACLU launched a campaign to pressure the authorities. In July — along with, among others, César Aira, Haruki Murakami, and Edward P. Jones — he was shortlisted for the Neustadt International Prize, the winner of which will be announced in November. We met for coffee in Ramallah on the morning that US Secretary of State John Kerry announced that the Israeli and Palestinian prime ministers had agreed to return to negotiations.
Ehrenreich and Zaqtan discuss further:
BE: When you went to Canada for the Griffin Prize, there was some trouble with your visa. What happened?

GZ: I followed the application steps online because there is no Canadian office here that has authority to give visas. I received a letter from the embassy in Cairo. They denied my application, and it was funny because the official gave three reasons: that he did not believe that the occasion of the prize ceremony is enough of a reason to give a visa, that he was not convinced by my financial case, and that he was not sure I would go back to Ramallah. I was shocked, to be honest. It's insulting. I sent the letter to the Griffin Trust. I had readings in Istanbul, and I went there. The campaign started from the United States cultural institutions and intellectuals and the Canadian cultural institutions and the Griffin. They did a good job really. The embassy officials told me, "Okay there is some mistake somewhere and you can refill the application and we will give you the visa." I told them I will not refill the application because I wouldn't be adding any different information. I had a reading in Jordan.

Suddenly they changed their minds. I was still in Istanbul. I had to write something about what was happening in Taksim Square for my weekly column. They talked with my wife, Fatin, and they told her Ghassan's visa is ready. I picked up the visa in Jordan and the melodrama finished. I don't think it was their plan to not allow me to go there. It's just their traditional way of treating Palestinians. Most would have the same problems. I had the campaign, I had my friends, I had the influence of an institution like the Griffin, so they changed their minds. Most Palestinians don't have this. This is the problem.
Read the rest over at LARB here.