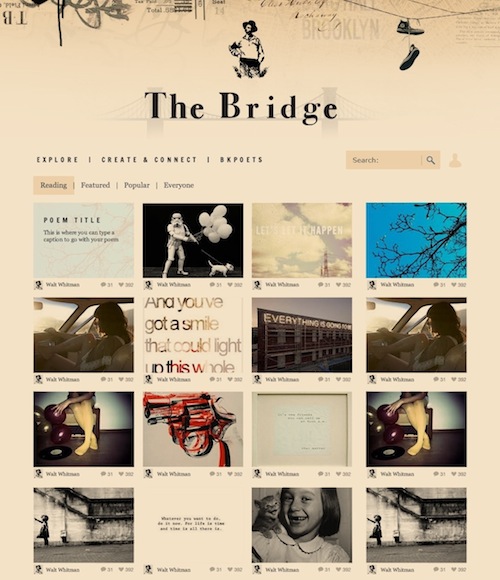 Are you a poet looking for a mentor, or are you a mentor looking to impart your poetic wisdom on young acolytes? If you fall into either category, you'll want to look into a new social network called The Bridge. The infrastructure for The Bridge is currently under construction and they're looking for your help to raise it. Ok, we're out of bridge puns here. In their own words:
Too many student & mentor poets today are missing each other. We have this thing called the internet to connect them, but no network getting it done.

Until now. For the past year Brooklyn Poets has been designing and laying the groundwork for such a network. In homage to Hart Crane, we call this The Bridge. And you can help build it.

TWO KEY THINGS THE BRIDGE WILL DO

Help student poets find mentor poets to get critiques of their work without having to go through a workshop structure or writing program.

Help mentor poets find student poets by offering critiquing services — at their own prices.

Students find mentors for less money than a workshop or writing program would cost, and mentors get paid without having to land one of those hard-to-find teaching jobs. It's that simple.

Students choose mentors based on price, services offered, location and other factors such as skills and stylistic influences. If they like, they can sign up for workshops proposed by mentors--workshops not governed by the mandates of any institution, for however long mentors want, with however many students, at whatever price, online or on site.

AND THAT'S NOT ALL

You'll have Readers, not Followers.

You'll create new work. Each week on The Bridge we'll feature a poetry assignment proposed by a mentor in our community.

Sharing your work will be a creative process. You can choose images to represent your poems and captions to go with them—like book covers for your individual poems. Add tags so readers can find your poems based on similar interests.
This sounds like another great alternative/supplement to the MFA. Head over to their Indiegogo page and find out more.