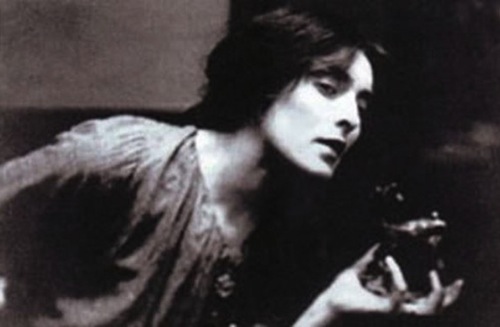 After reading this year's Poetry Crush run-down, you'll likely want to call SOMEBODY your boo. Mina Loy, for example.
3) Mina Loy by Todd Colby

I don't know that I'd actually like to have fucked Mina Loy, but I could see myself cuddling with her after we tried on one of her hats, and danced around the room to the Velvet Underground; throwing our bodies through space and just generally feeling that sense of abandonment that is granted to us with another person, but only a few times in our short lives. I see us walking around the Bowery, picking through junk for her collages, schlepping a red wagon stuffed with detritus, carrying it up to her apartment, and then watching with a joyful admiration as she assembled it into something beautiful. I'd walk over to her and kiss her long neck and whisper that she smelled good, and then we'd tumble onto the floor and whisper poems back and forth to each other, lost in a swirl of time and intimacy. She'd laugh as I read her one of my poems and sigh, reaching over to caress my shoulder and then she'd shuffle through one of her manuscripts and read me something she'd just written. I'd smile and feel a warm glow of recognition that a kindred spirit was sitting in front of me and that perhaps the world wasn't as dark and obscene as I'd been led to believe; that perhaps there were two people in a room, getting along well enough to dance and read poems to one another without worries about insults or recriminations; that it was possible to be in a room with someone as life swirled around us, and we swirled with it.
Aw yeah! Happy Halloween to all you romantics dreaming in the library stacks. Read on at Poetry Crush.