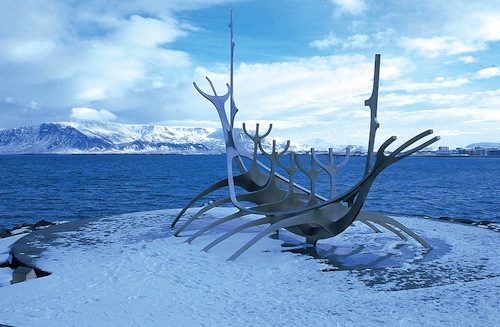 BBC News released a fascinating statistic proving that the little Nordic country might be literary paradise: 1 in 10 residents of Iceland will publish a book. This makes it the home of the highest concentration of writers anywhere in the world. Not only do they have more writers, but they also have more books published and a greater number of books read per person than anywhere else.
The article brags:
Sagas are written on napkins and coffee cups. Each geyser and waterfall we visit has a tale of ancient heroes and heroines attached. Our guide stands up mid-tour to recite his own poetry - our taxi driver's father and grandfather write biographies.

Public benches have barcodes so you listen to a story on your smartphone as you sit.

Reykjavik is rocking with writers. It is book festival time. Man Booker Prize winner Kiran Desai and Generation X author Douglas Coupland rub shoulders with Icelandic literary superstars Gerdur Kristny and Sjon. Sjon also pens lyrics for Bjork, Iceland's musical superstar.

"Writers are respected here," Agla Magnusdottir tells me. "They live well. Some even get a salary."
We're zipping up our Sigur Rós discographies and woolen underwear and catching the next flight.
Dreams of utopian happiness start here.