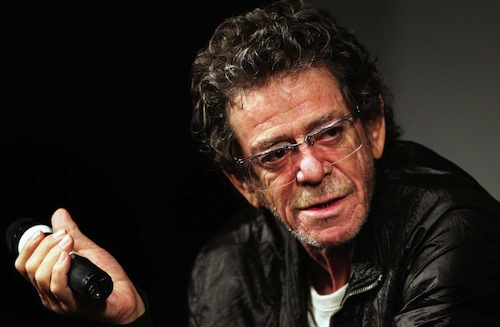 Yesterday we were saddened to hear the news of Lou Reed's passing at his home in Amagansett, N.Y. He was 71. The New York Times posted this obituary describing Reed's various groundbreaking musical achievements with the Velvet Underground and throughout his solo career.
Mr. Reed brought dark themes and a mercurial, sometimes aggressive disposition to rock music. "I've always believed that there's an amazing number of things you can do through a rock 'n' roll song," he once told the journalist Kristine McKenna, "and that you can do serious writing in a rock song if you can somehow do it without losing the beat. The things I've written about wouldn't be considered a big deal if they appeared in a book or movie."

He played the sport of alienating listeners, defending the right to contradict himself in hostile interviews, to contradict his transgressive image by idealizing sweet or old-fashioned values in word or sound, or to present intuition as blunt logic. But his early work assured him a permanent audience.

The Velvet Underground, which was originally sponsored by Andy Warhol and showcased the songwriting of John Cale as well as Mr. Reed, wrought gradual but profound impact on the high-I.Q., low-virtuosity stratum of punk, alternative and underground rock around the world. Joy Division, Talking Heads, Patti Smith, R.E.M., the Strokes and numerous others were descendants. The composer Brian Eno, in an often-quoted interview from 1982, suggested that if the group's first album, "The Velvet Underground & Nico," sold only 30,000 copies during its first five years — a figure probably lower than the reality — "everyone who bought one of those 30,000 copies started a band."
The obituary also makes mention of Reed's early and longstanding connection to poetry.
Generally resistant to authority and prone to mood swings, Mr. Reed troubled his parents enough that they assented to a doctor's recommendation for weeks of electroshock therapy at Creedmoor State Psychiatric Hospital in Queens; in 1959, while beginning his music studies at New York University, he underwent further treatment.

After transferring to Syracuse University, he fell into the circle around the poet and short-story writer Delmore Schwartz, one of his English professors. Mr. Reed would later resist being pigeonholed, but his college profile suggests a distinct type: an early-'60s East Coast hipster, a middle-class suburban rebel in love with pre-Beatles rock 'n' roll, jazz and street-life writers: William S. Burroughs, Hubert Selby Jr., Raymond Chandler, Allen Ginsberg.

He clearly absorbed and, at least at times, admired Bob Dylan. ("Dylan gets on my nerves," he said in 1968. "If you were at a party with him, I think you'd tell him to shut up." Twenty-one years later he would tell Rolling Stone, "Dylan continuously knocks me out.")
In 2003 Reed released "The Raven," a concept album based on Edgar Allan Poe's most famous poem and several of his short stories. More recently, in June 2012 Reed contributed a lyrical essay and remembrance of his mentor Delmore Schwartz to Poetry. Reed will be sorely missed.