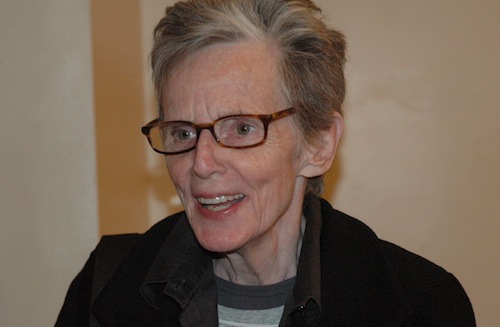 Yup. We just needed one more reason to travel to Portland and here we go! Susan Howe's first solo exhibition "TOM TIT TOT," co-curated by Robert Snowden and Andrea Andersson, opens at Yale Union (YU).
In 1961, when Susan Howe graduated from the School of the Museum of Fine Arts Boston with a degree in painting, the big news in art was the imminent death of art, or at least the death of painterly abstraction that had come to preside. Howe had every intention of being an artist. She moved to New York, touched the tarbush of bohemia, read the whole fraternity of artists' writings—Ad Reinhardt, Donald Judd, Robert Smithson, etc.—made books of lists and images, and wall installations with illustrations, photographs, found text, and original verse. By the time her friend, the poet Ted Greenwald visited her studio, she was arranging only words on walls. At his insistence—"You have a book on a wall, why don't you just put it into a book?"—Howe dismantled and sequenced her pages as Hinge Picture, her first book of poems. Taking title and epigraph from Marcel Duchamp's Green Box, Howe defined this delay as a form that operates both "in the plane" and "in space."[1]

This exhibition is no different, really. It is a hesitation toward the imminent fact of publishing. The poem, TTT, was commissioned for our little way station, but with the foregone conclusion that it would later be paginated, printed, and published in quantity. But enough with motives; I don't favor the full-control formula, and Howe is apprehensive about the particular havoc a space on the game board can cause a work of art. Her poem has to defend its own ambiguity. "Perception of an object," as she writes, "means loosing and losing it. Quests end in failure, no victory and sham questor. One answer undoes another…." [2] [...]

The exhibition program will include a talk by Susan Howe at LITERARY ARTS on Friday, October 4 at 7pm (seating is limited, please arrive early); a new performance by Susan Howe with her semi-regular collaborator DAVID GRUBBS on Sunday, October 6 at 5pm; a talk by LYDIA DAVIS on translation on Friday, October 25 at 7pm; a talk by MARJORIE PERLOFF on Howe's correspondent, Ian Hamilton Finlay, on Saturday, November 9 at 3pm.

It should also be noted that we will release our first publication, TOM TIT TOT, a chapbook of recent rectilinear poems by Susan Howe. The book will be printed in our PRINTSHOP by Emily Johnson in an edition of 500 on a Miehle Vertical V-50 press.

The production of Howe's new work would not have been possible without the support of Leslie Miller of the Grenfell Press. Thanks also to Charles Bernstein, Jen Bervin, John Cable, Susan Denning, David Grubbs, Tim Johnson, Marjorie Perloff, Rebecca Quaytman, and James Welling.
Whoa! We can't wait: see you there!