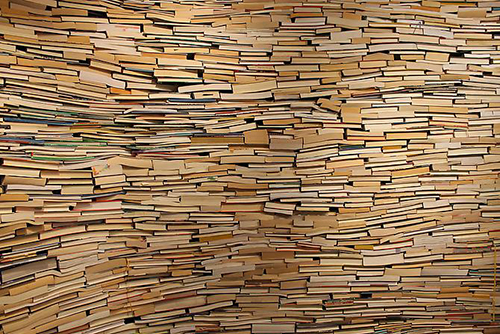 The Reading List is a new feature of the Editors' Blog this year. Each month we ask Poetry's contributors to share a book—or several—that held their interest recently. Here are some recommendations from the poets and writers in our October issue.
Heather Christle
Right now I am, like Alice in Wonderland, swimming in a pool of tears. Virtually all of my recent reading is about crying: the marvelous Pictures & Tears by James Elkins (a history of and meditation on people who have cried in front of paintings), Crying by Tom Lutz (usefully and accurately subtitled "The Natural and Cultural History of Tears"), Why Only Humans Weep by Ad Vingerhoets (so far a pretty dry take on such a wet subject), and Why Humans Like to Cry by Michael Trimble, whom I heard interviewed a few months ago on the BBC Radio show "Discovery," in which he suggested that of all the arts, people are most likely to cry in response to music, then poetry. Architecture, he said, is not often wept over. (About, I suppose I should say, rather than over, since floors must collect periodic tears.) What I would like to be reading is the full set of responses to Alvin Borgquist's 1906 questionnaire on crying, which begins:
As a child did you ever cry till you almost lost consciousness or things seemed to change about you? Describe a cry with utter abandon. Did it bring a sense of utter despair? Describe as fully as you can such an experience in yourself, your subjective feelings, how it grew, what caused and increased it, its physical symptoms, and all its after effects. What is wanted is a picture of a genuine and unforced fit or crisis of pure misery.
When I am not reading about crying I am reading mysteries, or returning obsessively to the collected W.S. Graham.
CA Conrad
Here's a list of some of the most brilliant books of poems (written by the living) currently shaking the foundation of my life and praxis. More than highly recommended, a nuclear shout out!
The Inside of an Apple (Wave Books)

Nota (Fence Books)

By Martin Corless-Smith

Music for Porn (Nightboat Books)

By Rob Halpern

As Long As Trees Last (Wave Books)

By Hoa Nguyen

fault tree (Omnidawn Books)

By kathryn l. pringle

Well Then There Now (Black Sparrow Books)

Sorry Was in the Woods (Omnidawn Press)

By Michelle Taransky

Things To Do With Your Mouth (Les Figues Press)

By Divya Victor

The Transfer Tree (1913 Press)

By Karena Youtz
Hannah Gamble
I. Culture of One by Alice Notley
This is one of those novel-in-verse deals, which, sometimes, I have to say, I tire of. (The ones I've read, more often than not, err on the side of being humorless/ heavy/ eventually exhausting [as in, I feel that the writer is getting exhausted, and I most definitely am getting exhausted]); this one, on the other hand, is super-great and consistently surprising and gutsy.
Here are some of my favorite lines (all from the book's first 18 pages):
"I am more powerful than a president; I am a crammed and desperate

poet speaking to everyone."

"Anyway it's no fun

to lie to a stranger—no consequences."

"Anyone but me gets to be human. Well then I won't be. Join a different

company. Room of luminous visionary beings: why not?'
II. Snow White by Donald Barthelme
A retelling of a fairy tale for adults?, I said. Noooooo, thank you. But: This guy did write some of my favorite short stories ("On the Deck," "The School," "Departures") and one of my favorite novellas of all time (The Dead Father), so I gave it a try. Like most of the things Barthelme writes, it's crushing, but also might make you cackle.
Despite the fact that it's based on a fairy tale and is bulgy with all the capital A absurdity you could wish for, it is, I think, one of the most realistic depictions of how men find women (maybe artistic/academic women in particular) tiring: most of the dwarves with whom Snow White lives (and sleeps) have high sex drives but much less stamina for all of the emotional upkeep that they feel Snow White requires. When she writes a poem they feel they must validate her creative efforts and encourage future endeavors; when she goes on a health kick (drinking a glass of orange juice) they feel they must congratulate her (and encourage future endeavors). The awareness of their obligations to her fatigue them and maybe even make them resentful, but each dwarf still wants to be her one-and-only. Read it, and then agree or disagree with me on the social media site of your choosing.
III. Flowering Mall by Brandon Brown
Obviously I'm going to be charmed by a book cover that depicts adorable digital people (and sheep!) participating in rear-entry sex acts, but let me tell you what: these poems (floppy, rompy translations/"translations" of Baudelaire's Les Fleurs du Mal) tickle me proper, and I'm so happy that Brandon Brown exists and refrains from being one of those "only writes something, albeit a brilliant something, every 6 months" kind of poets.
Here are some of my favorite lines:
"What we do daily we tend to do without

horror. But you know what never stops working? Olfaction.

Even and especially when you'd really prefer it to take a break."

"I also want to add that the heroic male artist as lame

and tragic as he is also gets this one thing right, that work is the

stumbling stone over which artmaking trips and dissipates."
Peter Quartermain
I've been lingering, the last few weeks, over Dissections (Diego Samper Ediciones, 2013), by the Canadian sculptor Geoffrey Smedley. It's a wonderful attack on humankind viewed as a machine , and consists of one hundred one-page commentaries on one hundred striking photographs of dissected parts of Smedley's sculpture, Descartes' Clown. The Clown itself is a metaphorical robotic machine; four sections of it were exhibited in June and July this year at the Canadian Centre for Architecture in Montreal. The commentaries, given by the Clown as it performs an auto-autopsy, make a brilliant series of reflections drawing on the history of science, geometry, philosophy and architecture. Smedley's robot dissects itself to find out whether it actually exists or not, and the book, essentially a statement in poetics, is a passionate and at times funny defence of the unreasonable and uncontrollable nature of human existence. I am still learning from it. It is also, in its 9½"-square white-on-black format, quite stunning, and a bargain at $40.00 plus shipping. (Printed in Colombia, it's available in North America through the publisher, Marlene Samper.)
Another deeply engaging book is The Properties by Colin Browne (Talonbooks, 2012), film maker, librettist, cultural historian, as well as poet. This is his fourth substantial book of poetry, and the poems here show his formal resource in meditations and/or explorations of love, delight, comedy, and thought—of their sometimes complex properties. They are also celebrations. "Here there's only now," one poem, says, "beyond knowing." Exhilarating work indeed, from one of the best Canadian poets around. Erudite, playful, and, well, physical in language, he's a keeper.
Zack Strait
I approach a book like an astronomer, focusing my lens on the creator's perforations of original light. Here's an autumn constellation I've been studying.
I. Alien vs. Predator by Michael Robbins
I fight the comet, lick the moon,

pave its lonely streets.
The title was enough to get me interested in this highly praised debut collection. Like the crossover film series the book is named after, Robbins excavates our archetypes of pop culture and poetry and assembles them with the mind of a mad scientist. As in the title poem quoted above, Robbins is at turns hilarious, offensive, and brilliant.
II. Tinkers by Paul Harding
Next fell the stars, tinkling about him like the ornaments of heaven shaken loose.
Like Alien vs. Predator, I approached this little novel with some skepticism—how could it possibly live up to the endless hype buzzing around it? And like Robbins, Harding made me a believer. As the sentence above demonstrates, every word is placed as carefully as moveable type, and each image is deep and crisp as letterpress.
III. Delights & Shadows by Ted Kooser
All night, this soft rain from the distant past.

No wonder I sometimes waken as a child.
I have no doubt that Kooser would admire Tinkers. Each poem in this collection, as demonstrated by the two line "Starlight" above, is crafted with the precision of a clock from George Washington Crosby's workshop, and as richly textured as maple burl. Kooser hems our eyelids open with the gleaming threads of our patchwork existence.
IV. Best American Poetry 2013 edited by David Lehman and Denise Duhamel
Because my son is as old as the stars.
A poem is country all its own, and these poems together form a landmass worth our exploration and habitation. The line above opens Major Jackson's "Why I Write Poetry," which alone would have justified the cover price for me. But there are many other wonders in these pages, just waiting to be discovered, and Duhamel is right there to show us the way.
Marcus Wicker
Because I'm slowly crafting a poetry syllabus on first books, I've read a number of them lately. Four standouts and something else:
Rebecca Gayle Howell's Render: An Apocalypse reads like a field guide for better living in a world that has forgotten its self, its better ways. A world a little animal. Some titles: "How to Build Trust." "How to Kill a Hog." "How to be Civilized." "How to Wake." "How to Cure." Think stark, precise lines like: "Since there's nothing else to kill / take the slate rock piled out back / and target blue jays as they hawk." Render is slim in size but substantial. I keep it in my briefcase for a quiet break. It's a book that asks you to live with it awhile.
In the Absence of Clocks by Jacob Shores-Arguello is a book heavily invested in the lives of others, both everyday and intimate. Shores-Arguello maps Ukraine through the lens of his own mixed heritage and finds a home there. This is border crossing poetry; it renders a big world familiar and local. "…betrayed by quiet, we do not pray to darkness. We demand." And this guy can write.
allegiance by francine harris. I love this book. Couplets, tercets, prose poems, windy, double jointed stanzas—harris seems to be at home in any mode; in a voice antic, honest, and all her own. Many of these poems explore the undersides of violence, tenderness, and the raw spot between them. allegiance is also deceptively humorous when it wants to be: "every city has a country bar. / i am not always so tough when i walk in." A few of my favorites: "would like to first thank god," "i live in detroit," and "katherine with the lazy eye. short. and not a good poet."
It seems I'm always reading Ryan Teitman's Litany for the City. Sometimes the landscape is Philadelphia; sometimes it's the world of a foreign film or imagined city. Teitman writes cinematic poems, full of wonder and awe. He must truly believe language can make even the commonplace scared, extraordinary: "When the plow blade finds the body / of an old cello under orchard soil / the music of iron / cutting wood is too much / for our ears to bear."
Something else: A World Without End is Matthew Graham's third collection of poetry. Graham writes about love, loss, our positions in life, why we are the way we are—all with a great sense of emotional maturity and intelligence that springs from rhetorical frameworks, plus a life lived. It's an elegant book, nearly perfect in pitch. You should really read it. "Suddenly the whole world came down / To a woman crying."