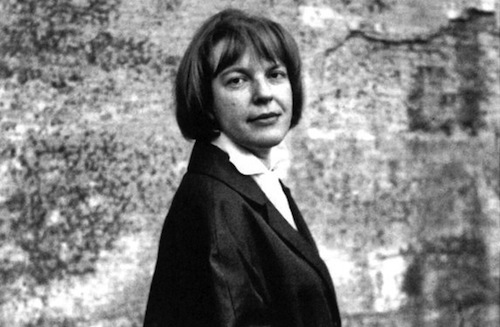 Achtung, those uninterested in committing mere persiflage at your next cocktailer: Some Ingeborg Bachmann scholars are in New York and are quite ready to discuss her work. Cf. Deutsche Haus, New York's top-most spot for the Germanically inclined. "Bachmann's Borders: A Commemorative Symposium," takes place this Friday, Nov. 1, at 6:00 PM, and features distinguished scholars Robert Pichl, Sara Lennox, and Karl Solibakke! "Our three speakers will thematize Bachmann's borders: her often critical conception of Austria and its relationship to its Habsburg past; the transnationalism of her writing, including her image of America; and her intermedial explorations of the boundaries between literature and music. In each of these contexts, borderlands become topoi, sites of symbolic accretion, in Bachmann's rich oeuvre."
Speaking of intermedial exploration: You might recall that Bachmann wrote radio drama for Allied Radio station Rot-Weiß-Rot in Vienna (we considered that here), as well as her share of libretti. The event is free of charge, but you should RSVP -- the last time we showed up unannounced, our Haus hosts were scrambling to find us a seat. Fortunately, Orpheus was repeatedly inscribed. More information on the Bachmann symposium is at the Deutsche Haus website.
For kicks, here's the trailer for Werner Schroeter's Malina, based on the Bachmann novel and starring Isabelle Huppert (1991).
http://www.youtube.com/watch?v=z5NSyfZPjOs