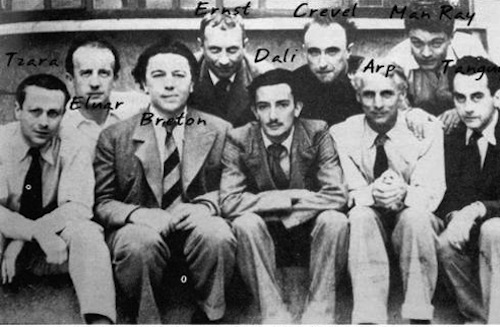 Over at Hyperallergic, Mostafa Heddaya reviews Shana Lutker's play "The Nose, The Cane, The Broken Left Arm," which reenacts "An evening Dada revue organized by Tristan Tzara, July 6, 1923′s Soirée du Coeur à Barbe (Night of the Bearded Heart) [which] was the site of an infamous altercation between Tzara's associates and Surrealist don André Breton at the Théâtre Michel in Paris." How infamous? Breton, reacting to a perceived insult to Picasso, "leapt onto the stage and beat one of Tzara's actors, Pierre de Massot, with his cane, breaking the man's arm." Ouch! Heddaya goes on to write:
Lutker's dramatization, narrated by Joey Frank, who plays an affably tweedy emcee, begins with Pierre de Massot's monotonous monologue that inaugurated Tzara's play: "…André Gide, dead on the field of honor. Pablo Picasso, dead on the field of honor. Francis Picabia, dead…" Upon hearing Picasso (who was also in the audience) so besmirched, Breton leapt to the stage. His associates, the poets Robert Desnos and Benjamin Péret, held Massot as he refused their friend's command to rescind the insult, consequently receiving Breton's cane on his arm. Massot, cradling his broken limb, continued the monologue as Breton and company were arrested and escorted out by the police to cheers from the crowd.

utker's performance is preoccupied with many things, and retells the story with a great degree of fidelity and nuance. And because the artist is, in her own words, interested in "gaps between language and object," the stage was littered with historically-attuned artifacts: the titular papier-mâché nose costume, geometric lip-blocks, sundry geometric props and semi-costumes, a billowing screen upon which Man Ray's short film The Return to Reason was projected. The narrative was punctuated throughout by the choreographed antics of her cast of three actors and live piano accompaniment; Joey Frank, the intertextual emcee, read occasional French passages in a sardonically butchered, intentionally incoherent patois. Completing the panorama with a measure of authenticity, an impeccable reproduction of Tzara's original program for the Soirée du Coeur à Barbe was tucked into the audience's Performa pamphlets.

"I can push aside my post-millenial upper-middle-class distaste for violence, and be motivated and inspired by these zealous, strategic interventions by struggling artists, who believed that art was transformative, that surrealism was revolutionary, and knew that change was volatile and necessarily adversarial," writes Lutker in the essay that inspired the performance, offering a perspective altogether more incisive than the feel-good antics enjoyed on stage at Theater 80. After all, the theatricality of violence, especially among such flamboyant intellectuals as Breton and Tzara, lends itself easily to the terrain of humor.
Well, geez, surrealists gotta lighten up! Head over to Hyperallergic to read more about this combative performance.