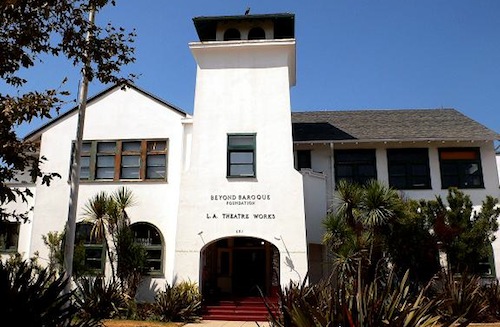 We love the amazing work the folks at Beyond Baroque do, and we equally love hearing Will Alexander talk about the organization's history and presence in the Los Angeles writing scene. For the full story, head to Jacket2. For a taste, check this out:
A beacon beaming rays through the mists of an inclement realia not unlike a lighted mount above a sequestered alabaster grove. This being Beyond Baroque, a refuge for imaginal practitioners. Not a mirage mind you, but a living amplification of language, operative since the latter '60's, prior to all the poetic bureaus and seminal presses of the present era. It pioneered, took chances, paved the way as an alchemic hive, as a living poetic habitat.

Not a mirage, but a three-dimensional facility, housed in the old Venice City Hall, constructed circa 1908. As stated, it remains a poetic refuge, but more than a refuge, it is a zone where poetic combustion transpires. Certainly not a space which appeals to the psyche of technocrats, or to poets buffered by disposable income and unwarranted status. It is a place where mud can withdraw and smolder, where the imagination can alchemically teem, and is given the liberty to blaze.