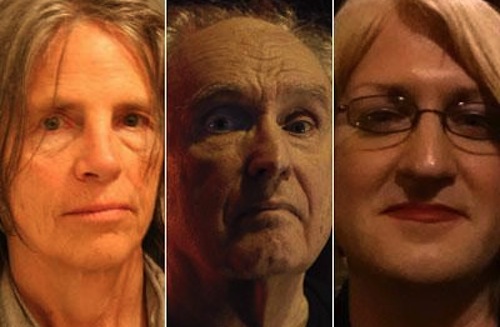 The Advocate has a great feature up today. "7 Queer Poets You Should Know" comes on the heels of Richard Blanco's newest book publication (For All of Us, One Today, released this week).
While Blanco consciously steered away from controversy in "One Today" [at the inauguration] ("My selection was enough of a statement," he wrote), queer poets and politics are inevitably intertwined. From Sappho to Oscar Wilde to the Beat Generation, LGBT bards have played a crucial role in articulating every shade of sexuality by capturing, mourning, and celebrating the experience of being queer. In this spirit, The Advocate reached out to poets Frank Bidart, Eileen Myles, Mark Doty, Judy Grahn, CAConrad, and Tim Trace Peterson for poems that illustrate how the current generation expresses queer love and identity, in all its unity and division.
New poems from all follow; read them here. And speaking of Eileen Myles: a new interview with the poet is up at rob mclennan's blog. It's part of mclennan's "12 or 20 questions" series. An excerpt:
7 – What do you see the current role of the writer being in larger culture? I think we have a position on it. I'm not sure it's position on us is so interesting. I've found myself in Ireland at the moment of the death of Seamus Heaney and of course he's had a huge impact here and the comparison between the US and Ireland gets made. But we're such different countries that of course their poet who got a Nobel Prize would be such a moment of national mourning. The US is in some ways not even a nation. It's so many things and where would a writer fit in there. I think it's the wrong question. The poet vanishes in larger culture. The larger the culture is the most the poet is invisible. Larger culture has no edge. Where would she work?

Does s/he even have one? What do you think the role of the writer should be? No such thing. No required role of the writer, no desirable one. What I want? To be out and proud with my work when its done and be someplace home doing it otherwise. Though I don't know where home is at the moment. So I'm trying to make that in my work. It's hard.

8 - Do you find the process of working with an outside editor difficult or essential (or both)? I haven't done it much. In poetry books I've gotten a few suggestions and since there's only been a few I'm mostly taken them. In prose I've gotten more suggestions and I've taken more and said no to more. I've not yet found "my editor." I've never had a professional relationship like that though Chris Kraus is the closest on two different books Semiotext(e) published. My agent was actually great and helpful on Inferno. I was involved for a while with someone who was a wonderful editor. That was nice.

9 - What is the best piece of advice you've heard (not necessarily given to you directly)? A little more hand-holding. In prose at least but I think in poetry too its not a bad idea to reflect on the readers experience and not abandon them utterly. Show up from time to time like Virgil or whatever. Lean on the information an editor said about a piece of art writing. She meant describe. Philip Whalen said the only good criticism was too many words. I really like that.

10 - How easy has it been for you to move between genres (poetry to fiction to critical prose)? What do you see as the appeal? Refreshment, relief, space. Variety. They excite each other.

11 - What kind of writing routine do you tend to keep, or do you even have one? How does a typical day (for you) begin? I like to get up, drink coffee and read, go running, eat, meditate and write in that order. But it's good to jump on it decisively at any point in the day. And of course language choose itself a lot, and that's poetry. You don't even begin. You're like there.

12 - When your writing gets stalled, where do you turn or return for (for lack of a better word) inspiration? I'm a big avoider. I read. I don't really get stalled. I refuse to begin. I get fearful. At this exact moment I'm answering your questions because I didn't write today and I'm sick of reading and the dvds I want have not arrived and I can't download stuff from the internet here because it's only dsl and the desk's across the room and I'm not even in North America and I forget how to do torrents and I'm not focused enough to learn. Fine time to answer these questions. I really want to sleep.