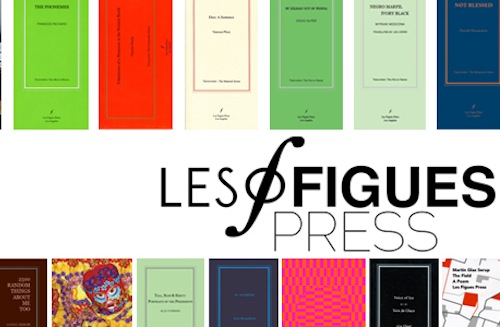 We're excited to see that one of our favorite presses, Les Figues Press, now has their own PennSound page. Yesterday, PennSound posted two features (readings and conversations) with a host of poets from the Les Figues ranks. Here's what the good PS editors have to say about their recent acquisitions:
Thanks to Katie L. Price, we're able to share a new series page, Sounds from Les Figues Press, which currently contains recording from two series that took place in 2011 and 2012.

First, "Explanation as Composition," a series of social writing events curated by Harold Abramowitz, Amand Ackerman, Teresa Carmody, Kate Durbin and Sarah Shun-lien Bynum, that took place at LACE (Los Angeles Contemporary Exhibitions) in January 2011 and then yielded a series of six audio tours — on "Story," "Geography," "Ekphrasis," "Provenance," "Nature," and "Confession" — that were exhibited later that spring. Aimee Bender, Allison Carter, Mark Z. Danielewski, Carribean Fragoza, Veronica Gonzalez, Janice Lee, Harryette Mullen, Janet Sarbenas, Anna Joy Springer, and Stephen Van Dyck also took part.

Then, we have three videos from the "Q.E.D." series of conversations about queer art and literature bringing together writers, artists, and critics, that were moderated by Vanessa Place, and staged during Summer 2012. The first event, "Thing Unsaid," took place on April 11, 2012 and featured Melissa Buzzeo, Patrick Greaney, and Simon Leung. The second event, "What Matters," took place on May 9, 2012 and featured Michael du Plessis, Brian Teare, and Lincoln Tobier. The final event, "Authentic Objects," took place on June 13, 2012 and featured Judie Bamber, Dodie Bellamy, and Terry Castle.
Head over to PennSound to have a listen.