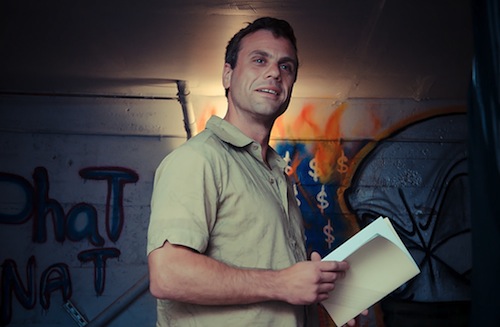 Andrew Epstein at Locus Solus points out a new essay from Jasper Bernes about John Ashbery's "free indirect labor" in the journal Modern Language Quarterly (alas, sub req.):
Bernes argues that Ashbery's early work — especially the notorious, challenging, and polarizing poems in his second book, The Tennis Court Oath (1962) — can be read as a response to the new economic and social conditions of the postwar era. By viewing Ashbery's poetry as intensely concerned with material and economic conditions under capitalism (rather than as ethereal, abstract ruminations on the metaphysical or absurd), Bernes follows the lead of recent work by Christopher Nealon and other critics.

Bernes opens with a compelling reading of "The Instruction Manual," the much-anthologized but atypical poem from Ashbery's first book, which is about an office worker putting aside the tedious task of writing a technical manual and escaping into an extended daydream about visiting Guadalajara. Bernes views it as a kind of ur-Ashbery poem on the relationship between work and poetry and the plight of the white-collar worker.

Bernes shrewdly situates such Ashbery's poems of the 1950s and early 1960s within the context of the new forms of white-collar labor that emerged during the postwar period — the phenomenon famously diagnosed and described by landmark works of the 1950s like C. Wright Mills's White Collar, William C. Whyte's Organization Man, and David Riesman's The Lonely Crowd.

Bernes acknowledges that emphasizing the importance of work and capital to Ashbery may be a rather surprising frame within which to consider his work:

scenes of employment, images of the "factory," and characters identified not by name but by type of employment — teacher, janitor, secretary, pilot, soldier, policeman — merit extended attention, probably because Ashbery seems the last person to consider labor a central category.

The famously disjunctive poems in the Tennis Court Oath are not merely exercises in indeterminacy and surrealist free play, Bernes argues, but are actually obsessed with problems of labor and alienation in the new society of the postwar period. In these poems, Ashbery "approaches the new products and processes of industrialized life not as consumer but as worker … In The Tennis Court Oath the emptiness of industrialized modern life is the emptiness of work life." The book does not only grapple with such issues on the level of content, but also through its radical innovations with form. As Bernes argues, "experimentation with point of view is a primary means through which the poems explore the complicated and sometimes contradictory social relations of the postwar workplace."
Does this mean Ashbery couldn't afford his own poems? Jk. Read it all here.
Photo of Jasper Bernes by Andrew Kenower.