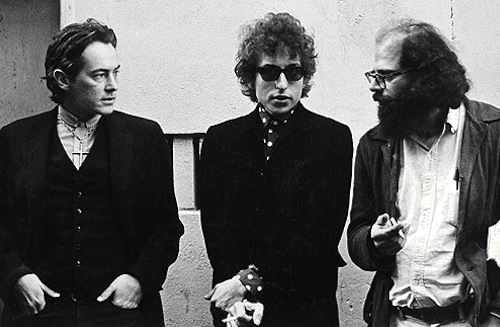 Yup, that's Michael McClure on the far left. Garrett Caples speaks to McClure on the eve of City Lights's re-publication of Ghost Tantras, first published in 1964, at SF Bay Guardian.
I drive up into the East Oakland hills, past 19th century "Poet of the Sierras" Joaquin Miller's odd little cabin, to visit Michael McClure. Based on his youthful good looks, you'd never guess he was a few days shy of 81, but the trail McClure has blazed through literary history testifies by length, stretching back to 1955 when — alongside Philip Lamantia, Philip Whalen, and Gary Snyder — he was the youngest participant in the famous Six Gallery reading at which Allen Ginsberg debuted "Howl." It was a seminal moment in postwar American poetry. "We all put our toes to the line that night and broke out," he says. "And we all went our own directions."

Beginning with his first book of poems, Passage (1956), McClure would find himself going in many directions, writing novels, essays, journalism, and even Obie-award-winning plays like The Beard (1965). As a countercultural figure, he could roll with the times, reading at the Human Be-In in 1967 in Golden Gate Park; associating with high-profile rock acts like Bob Dylan, the Doors, and Janis Joplin (for whom he co-wrote the 1970 classic "Mercedes Benz"); and appearing in movies like Peter Fonda's The Hired Hand (1971) and Martin Scorsese's The Last Waltz (1975). In the mid-'80s, he even began performing with the Doors' Ray Manzarek on piano, releasing such CDs as last year's The Piano Poems (Oglio Records). And though I've come to discuss Ghost Tantras, his 1964 self-published book of "beast language" reissued this month by City Lights, we inevitably touch on the recently deceased keyboardist with whom McClure played over 200 gigs.

"Ray died at a very wonderful time," McClure says. "He's 74 and at the height of his powers. People say, 'You must feel broken up about Ray,' but I'm actually happy to know someone who stepped out in his own glory. The last time I saw him was [last] November. We had just done a performance at the Sweetwater in Mill Valley. That night Bobby Weir sat in. It was like the Doors and the Grateful Dead embraced."
Read more at SF Bay Guardian.