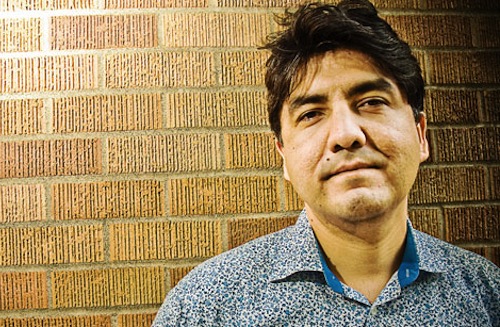 Thanks, NYT, for getting the scoop on one of our favorite poets and fiction writers, Sherman Alexie. We love hearing what poets read, where they read, and who they have a crush on! Read on:
Describe your ideal reading experience (when, where, what, how).

I am a very promiscuous reader. Anytime, anywhere. But my favorite place to read is in a hot bath, late at night, with a big glass of ice water.

Who are your favorite novelists?

My favorite novelists and short-story writers are Louise Erdrich, Michael Connelly, Lorrie Moore, James Welch, Toni Morrison, Dennis Lehane, Kelly Link, David Markson, Mo Hayder, Ralph Ellison, Leslie Marmon Silko, Aimee Bender, Jim Carroll and Colin Harrison.

And your favorite poets?

James Wright, Erica Dawson, Emily Dickinson, C. K. Williams, Ai, Adrian C. Louis, Catherine Pierce, James Welch and A. E. Stallings.

Any new books by Native American authors you would recommend? And your all-time favorite literary works by Native Americans?

Stephen Graham Jones, a Blackfeet Indian, has written tons of sci-fi, horror, crime and experimental fiction. He's not new but should certainly be read by many more people. My favorite work of Native American literature is "Ceremony," by Leslie Marmon Silko. [...]

What writers inspire you?

I'm a fanboy vacuum. I inhale everything and find influence in most of it, from Shakespeare to "Serenity," from Jane Austen to "Austin City Limits," from "Native Son" to "Breaking Bad."

Disappointing, overrated, just not good: What book did you feel you were supposed to like, and didn't? Do you remember the last book you put down without finishing?

I always have this reflexive animosity toward the new hot writers like Karen Russell or Chad Harbach, so I buy their books, read the first page and then set them aside for months. Eventually, I go back, read the books and discover, of course, that the books are great. It's my literary pathology.

If you could meet any writer, dead or alive, who would it be? What would you want to know?

I would love to go on a first date with Dorothy Parker and get verbally eviscerated.
And so would we!!