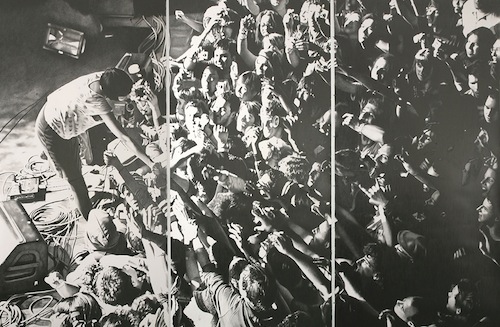 Patrick Gaughan interviews Andy Mister about his new book, Liner Notes (Station Hill Press of Barrytown 2013), for BOMBLOG. This one's for you music lovers: "Andy taps into the inevitable mingling of rock myth with the real, of icons and us (whoever we are), and how some of us never stop looking in the mirror for latent Nicos or Bowies behind our eyes." An excerpt of the interview:
PG Reading your book, I identified patterns in your prose blocks: celebrity death to vivid memory with a lover, music factoid to casual train ride observation, then back to celebrity death. In Hans Hofmann's essay "The Color Problem in Pure Painting," he says:

Since every color can be shaded with any other color, an unlimited variation of shading within every color scale is possible. Although a red can be, in itself, bluish, greenish, yellowish, brownish, etc., its actual color emanation in the pictorial totality will be the conditioned result of its relationship to all the other colors.

Are you treating anecdotes as Hofmann does reds and blues?

AM Liner Notes developed out of two pieces, one a more traditional lyric essay and the other a list poem detailing a number of rock and roll suicides. I combined these two pieces into one and expanded it, trying to allow as much disparate information in as possible. I wanted to use different types of language—lyrical, anecdotal, prosaic—without privileging one over another, similar to an all-over painting, to continue your metaphor, in which every part of the surface is given equal weight and attention.

PG I'd say the autobiographical sections of Liner Notes are of course subjective and lyric, but also sparse and clear, and you relate the deaths of rock stars in such straightforward prose that, at points, the vignettes could be Wikipedia entries. In Maggie Nelson's Bluets, she quotes Joseph Joubert, saying that in writing, "Clearness is so eminently one of the characteristics of truth, that often it even passes for truth itself." In a way, clear prose works as "a sleight of hand," giving the appearance of opacity, while concealing worlds of detail.

AM It's funny that you mention Bluets. Peter Gizzi recommended it to me and I just got a copy in the mail last week, but haven't read it yet. When I began writing Liner Notes, I was working an office job in Oakland. Between making Excel spreadsheets or whatever, I would Google search different rock and roll suicides and paste them into a document. Later I would clean the prose up and add other details from books or articles that I found interesting or totally rewrite them. Stylistically, I didn't want extraneous sentences. And inside each sentence, I only wanted words that felt necessary. There's a certain urgency I was trying to capture in the prose. Sometimes when you're writing about experiences that are hard or dark or troubling, it helps to present them in plain language, which can almost disappear, allowing the reader to see through the words to the event that is being described. I think that is what Joubert is talking about. Obviously, this is as much a stylistic decision as writing really flowery, purple prose, but it seems to imply a certain reverence for the facts of an event. An event that can speak for itself, in a sense.