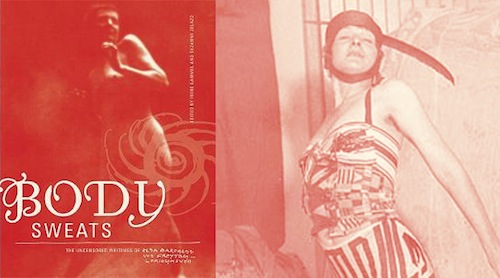 Bookslut's Nicholas Vajifdar reviews MIT Press's recent firstling collection of poems by the Baroness Elsa von Freytag-Loringhoven, Body Sweats, noting her struggles to get a foothold in the poetry world, even while prominent traits of her work included sound and feeling:
Her use of a naive rhyme (proving that Frederick Seidel was hardly the first writer to apply that indulgent trick) doesn't prevent her from applying Larkin's rule that a line in a poem ought to rhyme all the way across and not just at the end. As for feeling, under the nursery rhyme or frat chant surface is a strange tale of a quiet King Gunther, the legendary figure laid low by Attila the Hun, and now "Brainchilled in circumstances ill." There's much more emotion here than can be found in a mustache on the Mona Lisa. Her ancestors in verse, whether by intention or not, are Shakespeare's "mad" rhymes that double as prophecy ("For, you trow, nuncle, / The hedge-sparrow fed the cuckoo so long, / That it's had it head bit off by it young...") and Dickinson's dash-rich stuff, where each hesitation comprises a microcosm of life or death. This is from her poem "AH Me!"

Trust me
I do agree
Madam -- I firmly stand that ground
Coitus is paramount
Ab-so-lu-te-ly!

Coitus is spelled "Koitus" in the original manuscript, a touch I tend to prefer, as if it were some sex act peculiar to Mitteleuropa and forbidden in prim British America. Speaking of Mitteleuropa, Margaret Anderson might have had cause to wonder whether this visitor in spoons might not be fibbing a bit about her noble origins abroad. Impersonating titled foreigners is as American as road trips and barbeque, after all.

But it turned out that she was in fact both a baronness and a European. She was born Else Hildegard Plötz in 1874, in what is now Poland. The misery she endured growing up seems now like a mixture calculated to produce a Bohemian: a resented father, a family history of depression, a high sex drive yoked under a repressive upbringing (she had her first orgasm at age thirty), treatment for syphilis. (Strange that we so rarely see syphilis in internet listicles about how to boost your "creativity" at work.) She followed a lover to the United States and spent time in Kentucky and Cincinnati before arriving in the spot posterity now considers her true habitat: Greenwich Village. Wasting no time, she acquired a title by marrying the Baron von Freytag-Loringhoven. The baron, a German national, was arrested upon the outbreak of the First World War and committed suicide in 1919, leaving his wife little but the title, "The Baronness," which would become her moniker around town.

[...]

The MIT edition of her verse contains 150 poems, of which only 31 were printed during her lifetime. It was partly her inability to get a book published that caused her to leave America at age forty-eight. Another cause was money, or the chronic lack of it. The legendary Djuna Barnes served as her agent and editor; increasingly often Barnes also paid her rent. The Baronness developed kleptomania and frequently borrowed money. An inheritance was spent on travel. The Baroness was one of those people who have no talent for money, a talent whose existence no one believes in except for those who don't have it.

Back in Germany, she realized that the "scene" had shifted to Paris, toward the intellectual B&B Gertrude Stein was running out of her apartment there. The Baroness went to the French consulate to try to get a visa. She described her strategy of ingratiation with the officials there in a letter to Djuna Barnes....
Read it all at Bookslut.