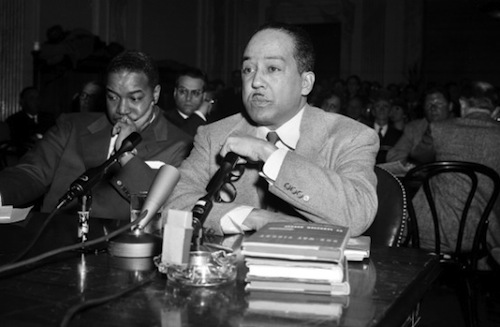 Religion&Politics, a project of the John C. Danforth Center on Religion and Politics at Washington University in St. Louis, explores one poem that haunted Langston Hughes for the rest of his life.
On the afternoon of November 15, 1940, Langston Hughes was headed toward the exquisite Vista del Arroyo Hotel in Pasadena to attend a luncheon in celebration of his recently published biography, The Big Sea. As the car in which he was being driven got nearer his destination he heard the strains of Irvin Berlin's recently revised, "God Bless America." The music was coming from a "sound-truck" parked directly across the street from the hotel. It displayed a banner with the phrase "100 percent American" written in gold lettering. A large crowd had gathered in front of the hotel with picket signs emblazoned with Hughes's name, causing traffic and general chaos. With the car unable to move forward, Hughes got out a few blocks away and walked, unnoticed, through the crowd. In the hotel lobby the manager and the organizer of the event, George Palmer Putnam, met him and explained that Evangelist Aimee Semple McPherson had sent about a hundred of her followers to protest his appearance. McPherson had recently denounced Hughes from her Angelus Temple pulpit as a "radical and anti-Christ," saying, "there are many devils among us, but the most dangerous of all is the red devil. And now there comes among us a red devil in black skin!" Heeding her advice, her supporters had come to distribute flyers denouncing Hughes as a Communist and an Atheist. Embarrassed by the ruckus, Hughes withdrew from the event before it began and headed back to Los Angeles.

What so upset America's first true "celebrity preacher"? A poem. A poem Hughes wrote in 1932 in which McPherson was portrayed, some would say aptly, as a materialistic religious exploiter. During the 1920s and 1930s McPherson rode a wave of popularity previously unknown to American ministers. Her 5000-seat Angelus Temple in Los Angeles netted her millions of dollars annually, providing her a lavish lifestyle that belied her humble Salvation Army roots. By the time her name appeared in "Goodbye, Christ" McPherson's career had already been marked by charges of charlatanism, lawsuits, a mysterious disappearance (and an even stranger reappearance), two divorces, and a sex scandal.
Whew! Keep reading at Religion&Politics.