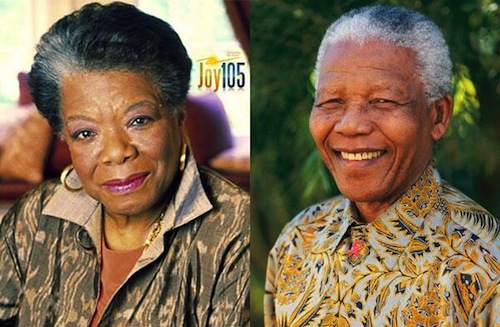 Democracy Now! ended its special coverage of Nelson Mandela's funeral this week with a poem written by Maya Angelou, dedicated to the late South African civil rights leader.
AMY GOODMAN: We end today's show with a video message delivered by the renowned poet and author Dr. Maya Angelou in memory of Nelson Mandela. They first met in 1962 before he was imprisoned.

MAYA ANGELOU: His day is done.
Is done.
The news came on the wings of a wind, reluctant to carry its burden.
Nelson Mandela's day is done.
The news, expected and still unwelcome, reached us in the United States, and suddenly our world became somber.
Our skies were leadened.
His day is done.
We see you, South African people standing speechless at the slamming of that final door through which no traveler returns.
Our spirits reach out to you Bantu, Zulu, Xhosa, Boer.
We think of you and your son of Africa, your father, your one more wonder of the world.
We send our souls to you as you reflect upon your David armed with a mere stone, facing down the mighty Goliath.
Your man of strength, Gideon, emerging triumphant.
Watch Maya Angelou's taped message of remembrance at Democracy Now!