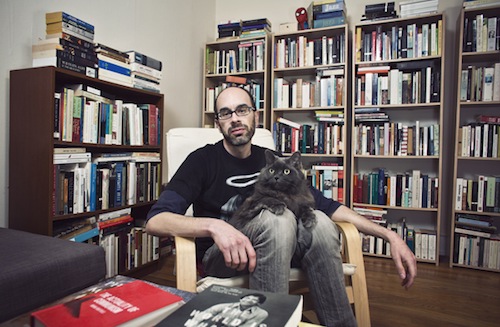 For those yearning to remember the year 2013 in style, Michael Robbins presents a few of his favorite reads from the year of the 13th aught at Chicago Tribune.
What are years? They're periods at whose conclusions — someone more adept at research than I should find out when this started — critics compile best-of lists. The one I look forward to most is Decibel magazine's top 40 metal albums of the year. A calendar year is just a convenient marker; the movies or books released in the time it takes the earth to get back to a certain position relative to the sun on a certain date don't necessarily provide any particularly representative or relevant picture of the art. A list of the best records that came out between one year's summer and the next year's fall might tell you as much or more. We love the odometer ticking over, is all, as we learned when we decided to call the last year of the 20th century the first year of the 21st.

Right: these lists are silly for all the reasons critics usually clear their throats with before offering their own lists, as I'm doing now. I'd be lying if I said I wasn't tickled to discover my own book on a number of last year's rolls, and foolish to draw too many conclusions from its inclusion. Lists are fun, though, and they're nonbinding. Looking back at my ballots for the Village Voice's Pazz & Jop poll, I find there's not one I wouldn't revise today (Sleigh Bells at No. 1, ahem). But they tell me something about what I thought then, what I didn't know, the ways I was fooling myself, who I was or wanted to be.

So this isn't a list of the best poetry books of 2013. It's not a list of my favorites. I don't even like all these books, as books. These are just some poetry collections from the past year that caught my attention for some reason, that made me think productively, if only for the space of a few lines, about what poetry can do and why and how. May you find something of value in one or two of them as well.
Read and explore more at Chicago Tribune.