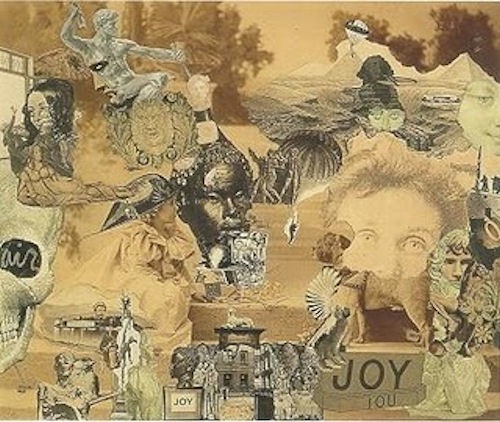 One of the high points of the summer of 2013 was certainly the exhibition "An Opening of the Field: Jess, Robert Duncan, and Their Circle." We poked and prodded to get you all to Sacramento to check it out. Remember? If you weren't able to free yourself from the east coast, fear not! The exhibition has traveled to you, New Yorkers! Holland Cotter reviews Jess- and Robert Duncan-centered show in the New York Times:
If you were young, gifted and odd, San Francisco was a good place to be in the years after World War II, when big changes were brewing in American art and culture. And that city is the setting for "An Opening of the Field: Jess, Robert Duncan, and Their Circle," an exhibition that feels like a chunk of Bay Area turf lifted from the past and set down, untrimmed and buzzing, in New York University's Grey Art Gallery.

The show spans decades but focuses on the 1950s, when an assortment of offbeat artists and poets found a common link in their friendship with two gay men who lived as committed partners in a wonderland of an old house, filled to the roof with art.
Cotter gives ample background to the scene and figures involved in the Jess-Duncan circle, then goes on to write about the exhibition:
"An Opening of the Field" — the title is borrowed from a Robert Duncan book — is a very gay show, in the sense of having many gay figures, who found an acceptance within this circle. The acceptance extended to their art. Madeline Gleason, who met her life partner, Mary Clarke Greer, through Jess and Duncan, was basically a Roman Catholic religious poet trying, as she put it, to sweep "the dust of inattention" from everyday life. Her devotional verses and paintings might have been a hard sell in New York, but in San Francisco, they were treasured for what they are: intensely personal, unabashedly spiritual and completely of a piece.

And so, despite its jumble of styles and skills, loopiness and holiness, is the show, organized by two independent curators, Michael Duncan (not related to Robert Duncan) and Christopher Wagstaff, for the Crocker Art Museum in Sacramento. Maybe the sense of unity comes from the presence of a marriage at its center, a same-sex union that lasted almost 40 years.

Or maybe it comes from the fact that so much of the art fits into no school, suits no market, lies outside the range of normal. It was an end in itself, a psychic collaboration, the communal property of lovers, spouses and friends.
Be sure to check out the rest of the article here. And in case you're tracking the exhibitions travels, all the deets about its perambulations are here:
"An Opening of the Field: Jess, Robert Duncan, and Their Circle" runs through March 29 at the Grey Art Gallery, New York University, 100 Washington Square East, Greenwich Village; 212-998-6780, nyu.edu/greyart. It travels to the Katzen Arts Center, American University, Washington (April 26-Aug. 17), and the Pasadena Museum of California Art (Sept. 14-Jan. 11).